Contact us today if you are interested in learning more!  Send emails to Mark Thomason @ [email protected] or call us at 814-371-3015.  Please read on to find out more details behind the press and the Gasbarre guarantee that comes with it!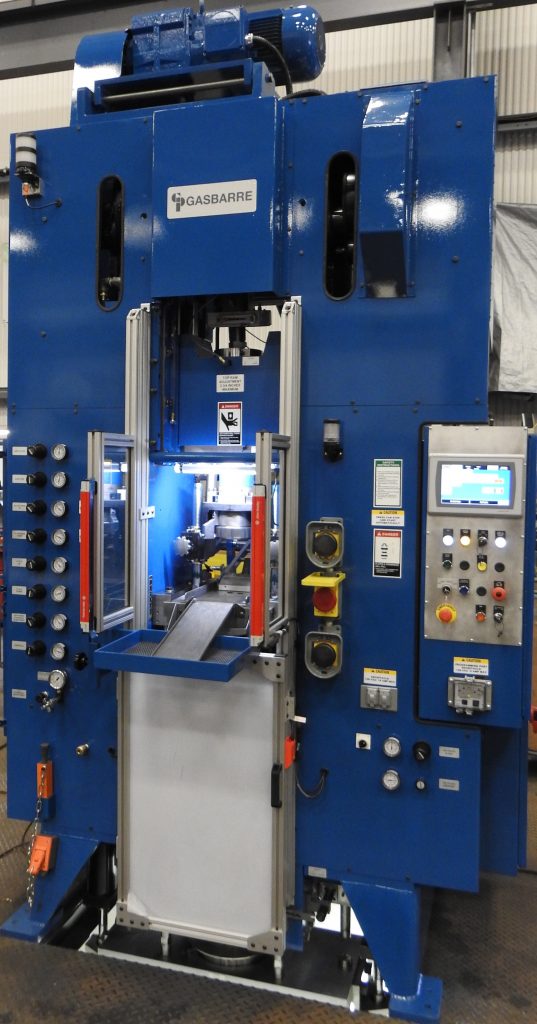 Press Specifications
Removable die set ‐ from front

Guided cross head upper punch mount

Dual upper punch head with hydraulic resistance system

Floating die plate – withdrawal ejection

Stationary lower punch plate

Stationary core rod mount (in press bed plate)

Optional:Indexing core rod system

Automatic die filling system

Main powder hopper and flexible supply hose

Mechanical fill shoe shuttle system

Fluidized die filling system (patented powder filling system)

Complete control system with integrated ANSI11.16 safeties
Gasbarre's Gold Level Document Package
Included with the equipment is a complete documentation package to assist in training and future maintenance. The included items are:
Equipment manual

Installation procedures and references

Operation procedures and references

Maintenance procedures and references

Purchased component manuals

Complete mechanical schematics
Complete control and electrical system schematics
Complete hydraulic and pneumatic system schematics
Complete die space layout schematics
Gasbarre's Guarantee and General Terms
Gasbarre Products, Inc. warrants the machinery and equipment described here in (excluding purchased components which are warranted by the component manufacturer and excluding tooling, adapters, or normal perishable items)against defects in material and workmanship under normal use and service for a period of ONE YEAR after date of acceptance. Gasbarre Products, Inc.'s obligation under this warranty is limited solely to furnishing or repairing without charge, F.O.B. our works for defective material and workmanship. We are not responsible for damage to equipment through improper installation, or attempt of operation other than its specified capacity, limits, or voltages,intentionally or otherwise. This warranty is in lieu of all other warranties expressed or implied. Gasbarre Products, Inc. shall not be responsible for any change, modification, or alteration to the press after it leaves the manufacturing plant, including misalignment's or damage from the result in travel or transportation of the press (shipper is responsible for damage). Gasbarre Products, Inc. is not liable for any accidents or injury as a result of operation of the supplied goods. Gasbarre Products, Inc. is not responsible for loss of business or profits due to the operability or inoperability of this press.
Please give us a call if you would like to learn more about where we are going. Call (814.371.3015) or email ([email protected]) us today!