Who is Gasbarre Precision Tooling?
Investing in precision tooling components is an excellent way to optimize your industrial manufacturing processes and products. At Gasbarre, we offer powder compaction tooling solutions that are trusted and preferred by customers worldwide.
With over 45 years in the manufacturing business, we've perfected our many production capabilities, creating high-quality precision tooling.
Gasbarre provides precision tooling capable of tolerances to one ten-thousandth of an inch. These tools are built by skilled Machinists, Tool and Die Makers and Engineers with a vast knowledge of both machining processes and materials.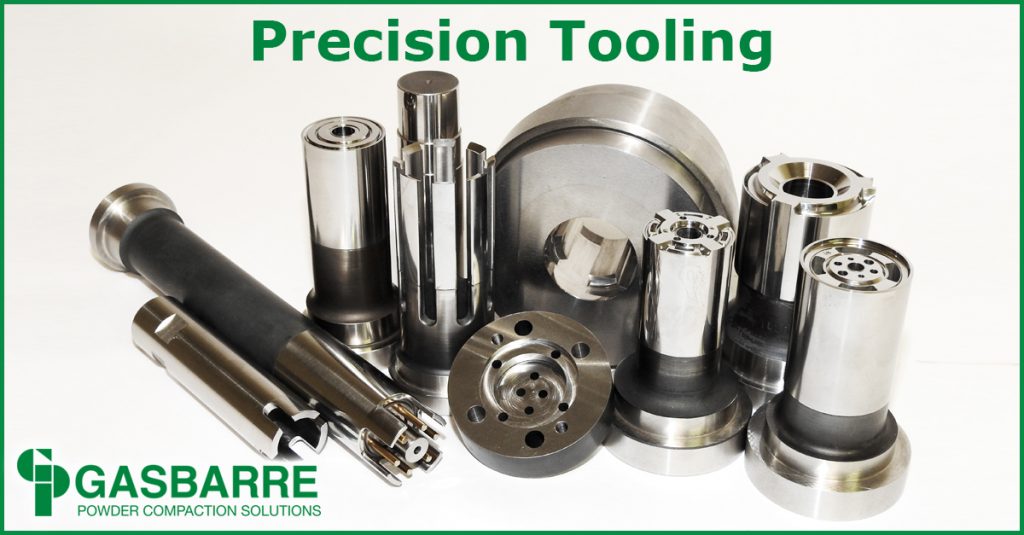 What do we offer?
Manufacturers of PM tooling since 1943.
In House Tool Design and Engineering
On-line design review and collaboration.
New Build – Complete and partial tooling sets for the powder compacting industries including but not limited to:

Automotive
Ceramics
Miniature Electronics
Laboratory and R&D

Refacing and Rework – Get a fast turnaround with high quality precision workmanship to keep you up and running on schedule.
Reliable Customer Service
Production Capabilities
Climate Controlled environment
Roughing – Mill and Lathe
Heat Treatment
Surface Grinding
Cylindrical Grinding
Sinker and wire EDM
HSM (High-speed milling) including:

Up to 40k RPM spindle speeds
Linear motor drives on the X, Y and Z axes, designed and built for high-speed precision milling and unmatched accuracy.
4th axis capability

Hard turning
Polishing and Cleaning

Ultrasonic polishing
High-speed diamond polishing
Postproduction tool cleaning
Inspection Capabilities
Tooling and part inspection is a crucial part of the manufacturing process. That's why we use our expertise and training to inspect our powder compaction tooling to ensure the highest quality for our customers.
Our inspection capabilities include:
Brown and Sharpe CMM

5 Axis Capable
Full scan capability

Contour tracing
Smart scopes
Traditional equipment
Calibrated to ANSI
Surface Finish Measuring
Email Us Now About Gasbarre Tooling
Call Today @ 814.236.3108
Let Gasbarre become your trusted partner. Contact us for a quote today.
Our family-owned business has served customers in Pennsylvania and beyond with top-of-the-line manufacturing solutions since our founding in 1973, and we're still committed to quality and performance today. With decades of experience and a commitment to helping customers get the most out of their operations, we're the experts you can trust.
Email Us Now About Gasbarre Tooling
Call Today @ 814.236.3108
Fill out a form or call us at 814-371-3015 to learn more about our offerings today!