Powder compaction presses compress metal powders using a compaction molding technique that condenses powder compounds into complex shapes, producing functional, structurally sturdy metal parts. Powder press machines use a rigid toolset, a ram or a die to apply downward force to the powder and press it into the desired shape.
At Gasbarre Products Inc., we develop standard and custom powder compacting and sizing presses built to last. We are a full-service original equipment manufacturer (OEM) specializing in full process integration and tailored solutions. We always consider our customers' individualized application needs before determining how to incorporate their equipment into their entire process.
Our Powder Compaction Presses
We offer a full range of industrial metal presses designed to take on a full range of applications. Gasbarre's quality system is ISO 9001:2015 certified, which means that you can trust that we provide the highest quality design, manufacture, rebuilding and servicing solutions.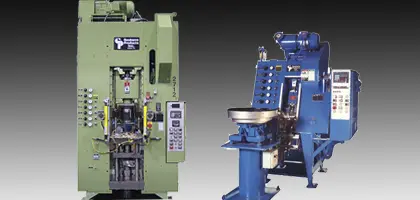 Sizing/Coining Presses
We produce standard and custom-fit sizing and coining presses fully automated for high-speed applications. Our powder metal presses come in two styles:
–Inclined automatic sizing press: This model offers a fast die-in-the-head design for components requiring minimal orientation.
–Upright automatic sizing press: This machine is a dial index unit with a ratchet-type rotary feed indexing system for complex part orientation.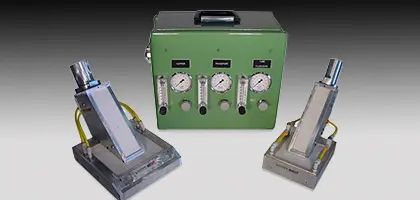 Auxiliary Equipment
Gasbarre offers a full line of press products specifically designed to help customers get more out of their equipment.
Invest in Custom Powder Metal Presses From Gasbarre Today
For powder compaction presses you can trust, choose Gasbarre. Unlike other OEMs, we design our powder metallurgy solutions for the life of the equipment rather than phasing out products and forcing customers into purchasing the latest technologies. Our products deliver up to 50 years of reliable service.
Contact us to get a quote on our powder compacting and sizing presses today!
A brief overview of the many ways that multi-material / multi-layer compaction has been used to produce high quality parts in a variety of industries and applications. For those that are thinking of expanding their markets, or wondering if this is even possible for them, Mark Thomason will share his substantial experience and answer questions.