A full range of powder compaction and sizing solutions for a full range of applications. Gasbarre has decades of press building experience, offering standard and custom equipment solutions for customer challenges. Auxiliary equipment and worldwide support mean that Gasbarre will be with you throughout the life of your press.
View Gasbarre's Mechanical Press Brochure
What Are Mechanical Presses?
Mechanical powder presses condense powders in the powder metallurgy process. Any machine that exerts pressure without the use of hydraulics to shape, form or cut materials, compress solids or extract liquids is considered a mechanical press. This equipment is used for manufacturing metal parts, sheet metal working, technical ceramics production and other metal forging applications.
How Does a Mechanical Press Work?
Mechanical presses use rotational force from the motor and convert it to a translational force vector that aids in pressing. They can be single-, double- or triple-acting, depending on how many rams are present.
To operate, the machine's electric motor creates power and transports it to the flywheel. After being initiated by the clutch and brake, the motor drives a gear train that channels the energy to the crankshaft, which moves the press slide vertically. Then, the motor reinstates power to the flywheel, beginning the process again.
Types of Mechanical Presses We Offer
If you're looking to optimize your powder metallurgy processes, Gasbarre has numerous types of mechanical presses you can choose from based on your individualized needs. All of our mechanical powder presses have their own specialized components, features and functions — because no two metalworking jobs are exactly the same.
Performance Series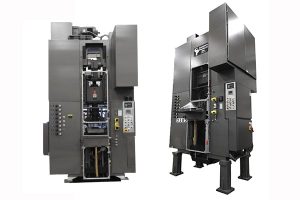 Our performance series presses are the affordable solution for single- to multi-level parts. These innovative machines comprise an intricate network of dependable components, including:
Floating die platen: Utilized to achieve the lower action. A fixed die table stop permits the use of shelves in the die.
Die control rods: Assist with achieving uniform density within the compacted part.
Four post design die set: Fixed unit mounted in the press. The die plate and core rod plate float together.
Adjustable lower and upper rams: Accommodate varying punch lengths.
Gear-driven adjustments: For precise control.
Ejection system: Bottom punch push-up utilizing an ejection cam and push rod.
Shuttle-type filler shoe system: Fully adjustable by use of worm gear-driven split cams.
Crosshead-style upper punch guidance system: Provides very precise punch-to-die alignment. This precision alignment enhances tool life.
Lower ram guide plate: Gives superior lower punch guidance. The adjustable lower ram does not protrude through the guide plate. This creates a solid barrier protecting the adjustments from powder contamination.
Die control adjustment: Located in the upper ram providing easy accessibility for adjusting and maintenance.
Core rods: Can be mounted in a stationary position or floating to permit synchronous motion with the die plate. Mounting adapters are provided for both types of installation.
Core rod adapter mounts: Bolted in for ease of removal and installation.
Enhanced guarding system: Includes solid fully enclosed hinged side guards, as well as hinged interlocked guarding on the front and rear of the press.
Email Us Now About Performance Series
Call Today @ 814.371.3015
Die Set Series
Our die set series mechanical powder presses are ideal for multi-level parts and applications requiring a removable die set and contain all of the following parts:
Removable die set: Available in up to three lower punch configurations.
Floating die platen: Utilized to achieve the lower action.
Adjustable die table molding stops: Enable process adjustments and tool redressing without modifying tool adapters.
Fill, ejection and molding stops: Worm gear-driven for easy accessibility and precise control.
Adjustable lower punch rams: Provide individual independent adjustment of lower punches.
Crosshead-style upper punch system: Provides precise adjustability, as well as precision alignment.
Shuttle-type filler shoe system: Fully adjustable by use of worm gear-driven split cams.
Withdrawal ejection system: Sequentially ejects tool levels using synchronized dual cams and push rods.
Modular pneumatic core rod system: Has adjustable mold stops. Positions and motions are controlled independently of the die set. A fixed core rod, which is mounted directly in the die set, is also included.
Density control rods: On the die and intermediate punch plates are independently adjustable permitting precise density control.
Email Us Now About Die Set Series
Call Today @ 814.371.3015
Multi-Action Series
The multi-action press series from Gasbarre is one of our biggest and best yet. This state-of-the-art technology is designed for complex, multi-level part construction and includes many high-quality components:
Selective molding and selective ejection functions: Eliminates the need for expensive bridging of tools.
Three independent lower punch platens: Provide total independent adjustability of each level.
Adjustable selective molding stops: Provided on the die platen, as well as the #1/#2 punch platens.
Adjustable selective withdrawal ejection: On the die platen, along with the #1/#2 punch platens. Permitting the use of any lower punch platen as the stationary level. This simplifies tool design and adaptation for complex part geometries.
#3 punch platen: Has 1-1/2" of float for transfer in conjunction with a fixed mold position.
Motorized position adjustments: With digital displays for ease of accessibility and precise control.
Pneumatic dual upper punch system: Gives upper hub and counter bore capability.
Top punch hold down function: Controls the part during ejection.
Automatic central press lubrication system: Ensures that the correct amount of lubricant is applied at proper intervals.
Presslog control system: Provides the processor-based press control with data storage through a touchscreen monitor operator interface.
Servo filler shoe system: Gives total precise control of all shoe functions programmed through the touchscreen monitor.
Tonnage monitor: Digitally displays the tonnage on the monitor and provides high and low parameter settings.
Underfill/overfill: Used to reduce powder "splash out" from the die, as well as aiding in difficult filling applications.
Email Us Now About The Multi-Action Series
Call Today @ 814.371.3015
PTX High-Speed Powder Compaction Presses
A complete line of high-speed and high-precision powder compacting presses, robotic parts loaders.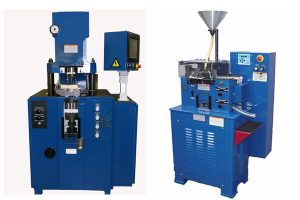 Anvil-Type Presses
Our anvil-type presses are designed for high-pressure applications within a small volume. When you purchase one of our anvil-type PTX presses, you'll experience all of the following features:
High-speed compacting of parts with one flat side
Parts can be thick or thin, have holes, teeth, etc
Parts are compacted against an anvil by the upward action of a lower punch
Our patented Unitized Anvil design combines the powder feeder, anvil and vacuum pick up into one unit which is always in contact with the die plate
Virtual elimination of powder spillage
There are no upper punches and associated problems of misalignment, breakage and wear
Opposed Ram Type Presses
These press types allow compaction from both ends of the tool cavity to ensure even density for even the thickest compacts. Other uses and applications of our opposed ram presses include:
Specially designed for multiple cavities, high-speed, complex, and multi-level precision parts.
Powder transfer from top and bottom punches, a pre-press with the top punch, and a top punch hold-down system.
With a standard removable tool set – tool assembly is done off-line and can be replaced and adjusted within about 15 minutes.
The same toolset may be used for a wide variety of parts.
The Multipak conventional press may also be used in 'Anvil Press' mode.
Email Us Now About PTX High Speed Powder Compaction Presses
Call Today @ 814.371.3015
Custom Mechanical Presses
We offer custom fabrication options where our team of skilled and knowledgeable associates will work with you to create a solution designed to meet your unique needs and incorporate seamlessly into our company's processes. Our comprehensive range of fabrication capabilities allows us to develop custom machines individualized to your needs, including:
Metal cutting.
Welding.
Bending.
Rolling.
Machining.
Facilities.
Steel inventory.
Angle rolling.
Ironworkers.
Benefits of Using Mechanical Presses
Purchasing pre-engineered or custom mechanical presses from Gasbarre means enjoying all the advantages of these top-of-the-line machines, such as:
Energy efficiency.
Fast production.
Multi-product work capabilities.
Stronger components than machined parts.
Repeatability.
High accuracy and precision.
Low maintenance costs.
Simple setup and operation.
Short changeover times.
Why Choose Gasbarre for Mechanical Powder Presses?
At Gasbarre, we've spent over 45 years offering a wide range of mechanical powder compaction products and presses that set the standard for power and dependability. We're known for servicing machines for the life of the equipment, getting to the root of any problem to provide long-lasting solutions that never get discontinued.
If you ever find that your equipment requires professional attention, we'll deliver the mechanical press repairs you need, whether it's a weekend, weekday or holiday.
Let Gasbarre become your trusted partner. Contact us for a quote today.
You can acquire a top-of-the-line mechanical power press that lasts at Gasbarre Products Inc. We always stay up-to-date with the latest technological advancements, offering high-tech equipment customers can trust.
Get a quote on a custom mechanical press today!