The Materials Science &Technology (MS&T) technical meeting and exhibition is the long-standing, recognized forum for fostering technical innovation at the intersection of materials science, engineering, and application. Each year, MS&T brings together scientists, engineers,students, suppliers, and business leaders to discuss current research and technical applications and to shape the future of materials science and technology.
MS&T is organized by a joint partnership of leading materials science-related societies: the American Ceramic Society (ACerS), the Association for Iron and Steel Technology (AIST), ASM International, and The Minerals, Metals &Materials Society (TMS).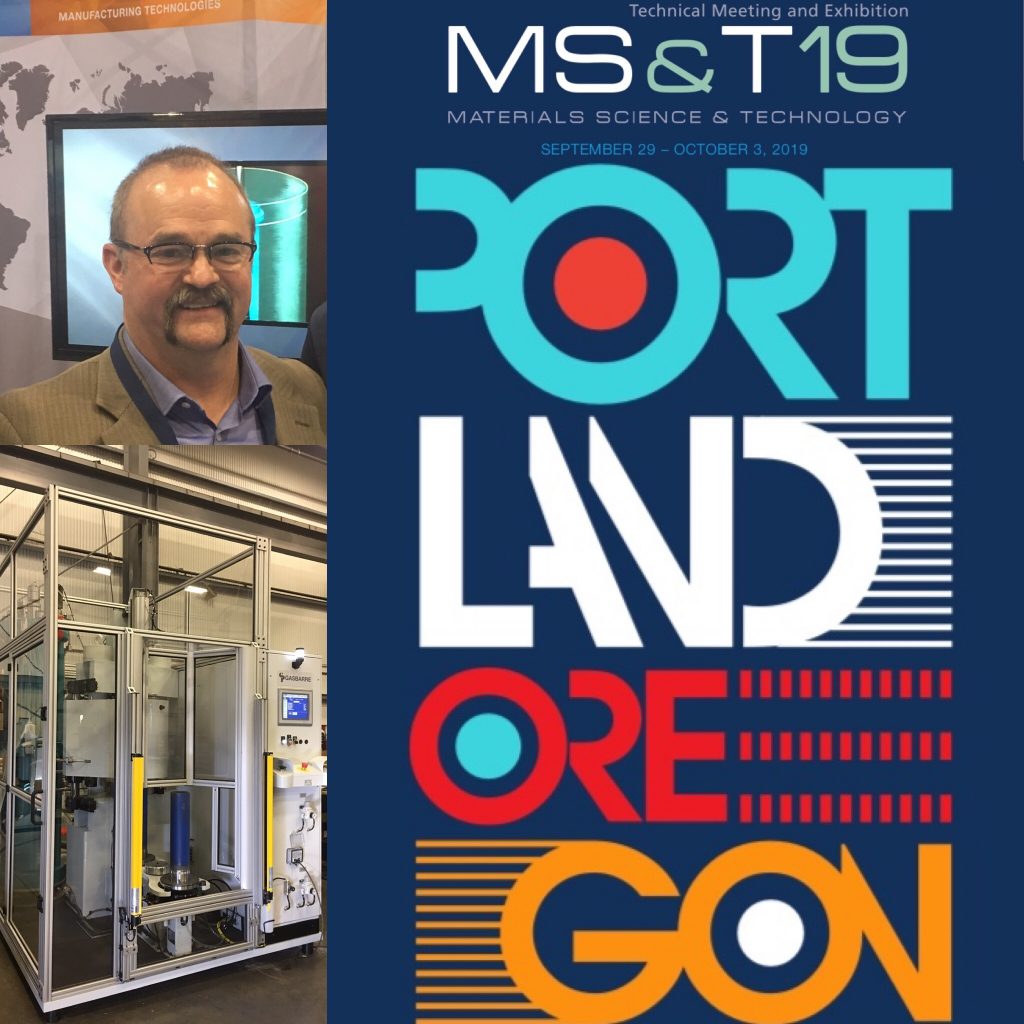 Gasbarre Products is a world reknown designer and manufacturer of industrial equipment for powder compaction and thermal processing applications.   Gasbarre Powder Compaction Solutions offers a wide range of uniaxial and isostatic presses. The uniaxial press types include hydraulic, electric, hybrid, mechanical, and high-speed mechanical configurations.  The isostatic presses are dry bag type available informing pressures of up to 3000 bar.  Gasbarre actively manufactures and supports the Simac and PTX-Pentronix press lines along side the Gasbarre press line. Other supporting items designed and manufactured include: powder compaction tooling & design, and material handling accessories, plus Fanuc Robot supply/integration. 
Why Choose Gasbarre?
Expertise
Work with a company that understands your business. Gasbarre has been building presses for over 40 years, and we understand the needs of our customers and the obstacles to their success. Expert advice comes standard with a Gasbarre press.
Selection
Mechanical, Hydraulic, Electric, Isostatic, High Speed; Gasbarre Press offers the widest selection of presses and accessory products available. Our presses are designed and built for maximum flexibility with in your operation, allowing a wider range of use and faster ROI. Because your press should fit your needs, not the other way around.
Service
Gasbarre customers require maximum up-time, and Gasbarre offers unmatched field service to deliver just that. In addition to emergency press service, Gasbarre offers machine operation and maintenance training as well as custom-designed maintenance programs performed by Gasbarre professionals. When our customers need help the most, we're only a phone call away.
Please give us a call if you would like to learn more about where we are going. Call (814.371.3015) or email ([email protected]) us today!
#MS&T19