APMI International is The Global Professional Society for Powder Metallurgy and the West Penn Chapter of APMI was first chartered in 1960, shortly after APMI's inception. APMI's focuses on bringing folks together from our industry to share and learn information around Powder Metal and particulate materials through publications,conferences and other activities. Gasbarre is a proud member of APMI! To learn more about APMI please visit their website.
Mark Saline the President of Gasbarre Thermal Processing Systems will be presenting tonight on Advancements in Sintering Furnace Controls.  Mark has been with Gasbarre for 5 years in various different roles, but has been in this industry for close to 30 years and has a wealth of knowledge.  Mark is a Penn State Graduate with a degree in Business Management and Materials Engineering Technology.  To learn more about Mark Saline, please visit his LinkedIn page or stop by and say hi to him this evening if you are attending APMI. We are very lucky to have Mark on our leadership team here at Gasbarre.
The focus tonight will be around the HMI (Human Machine Interface) and all the enhancements that come with interface.  Much of what he will be discussing will revolve around the data that can be pulled from sensors on the furnace and how you can use that data to help with process control, risk mitigation and continuous improvement!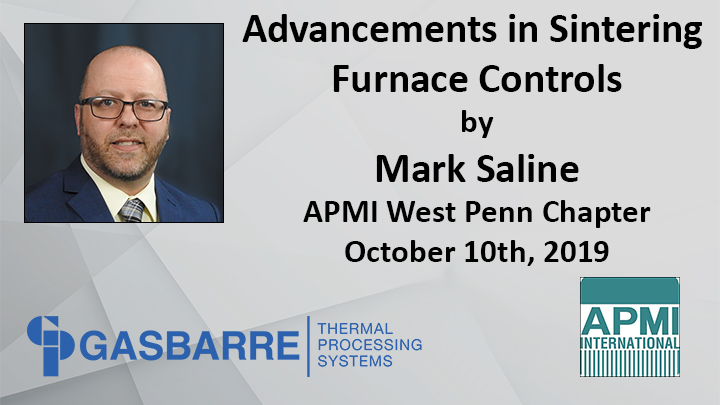 Located in St. Marys, PA, Gasbarre Thermal Processing Systems has been designing, manufacturing, and servicing a full line of industrial thermal processing equipment for over 40 years. Gasbarre's product offering includes both batch and continuous heat processing equipment and specializes in Temper, Tip Up, Mesh Belt, Nitriding, Box, Car Bottom, Pit,and Vacuum Furnaces as well as a full line of replacement parts and auxiliary equipment which consists of atmosphere generators, washers, quench tanks, and charge cars. Gasbarre continues to service and support Sinterite brand equipment and custom designs and manufactures thermal processing equipment to meet customer's specific needs.
For more information on how Gasbarre can manufacture custom-engineered heat treating equipment solutions for your specific thermal heating requirements, please contact Bill Gasbarre at (814) 834-2200 or via email at [email protected]. You can also visit our website at www.gasbarre.com and find us on LinkedIn(Gasbarre Products Inc.), Twitter (@gasproinc),and Facebook (Gasbarre Products Inc.).