HeatTreat Today (HTT) is one of the leading sources for learning about the heat treat industry, technology, markets and news. We are proud to announce that HTT has nominated Ben Gasbarre and Mike Harrison to their class of 40 under 40 this year.  HTT chooses a group of 40 young individuals each year that they believe are the industries elite.  Click here to read more!
Ben Gasbarre the President of Industrial Furnace Systems, a division Gasbarre Thermal Processing Systems graduated from Penn State with a Management and Supervision degree and is currently finishing his MBA at the University of Michigan.  Ben was selected to sit on the Industrial Heating Executive Committee and is a graduate of MTI's YES Management Training Program.  Most recently Ben was elected and sworn onto the MTI Board of Directors.  We are lucky to have Ben as a leader here at Gasbarre and look forward to all his future accolades as well!  To read more about Ben read his profile on Heat Treat Today or LinkedIn.
Mike Harrison has a Materials Science and Engineering degree from  the University of Michigan and an MBA from Walsh College. Mike is also a graduate of the MTI YES progam. Mike's education and background as a Metallurgical Engineer (AAM) and General Manager (Bodycoat) give Mike the key applications knowledge that has allowed him to excel as Engineering Manager at Gasbarre Thermal Processing Systems.  Most recently Mike helped develop our new Vacuum-Purge Nitriding Retort Furnace.  To read more about Mike Harrison checkout his profile on Heat Treat Today or LinkedIn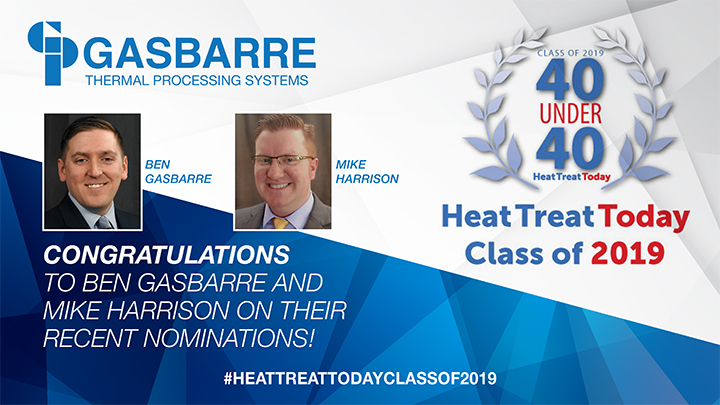 Gasbarre Thermal Processing Systems provides top quality industrial heat treating equipment, engineering, and service. With products ranging from batch furnaces to continuous belt furnaces, pusher furnaces, vacuum furnaces, humpback furnaces, and much more, we solve any application challenge with expertise and passion. Gasbarre, through our product models, Sinterite, C.I.Hayes, and Gasbarre Industrial Furnace Systems (formerly J.L. Becker), deliver the equipment to make your process consistently productive and profitable.
Gasbarre provides a full line of batch and continuous thermal processing equipment. Our equipment is designed to meet strict automotive and aerospace quality requirements; we are ISO 17025 accredited, and design to meet CQI9 and AMS 2750 standards.
Products:
| | |
| --- | --- |
| Box Furnaces | Vacuum Gas Purge for Nitriding & Ferritic Nitrocarburizing |
| Car-Bottom Furnaces | Vacuum Furnaces: Batch, Continuous, and Integral Quench |
| Charge Cars | HyperCooler Accelerated Cooling System for Sinter Hardening |
| Continuous Belt Sintering Furnaces | Oil Impregnators |
| Pit Furnaces | Dryers |
| Roller Hearth | Quench Tanks |
| Steam Treating | Endo/Exo and D/A Gas Generators |
| Tempering Furnaces Tip-up Furnaces | Parts Washers Water Cooling Systems |
| | |
Unmatached Gasbarre Support
Because the first day in operation of a Gasbarre furnace is the beginning of a long-term relationship, Gasbarre provides a dedicated field service group that can troubleshoot, evaluate, upgrade, rebuild or relocate your heat treat equipment. Our parts department offers service for all of your equipment replacement part needs. Gasbarre will be there when you need us. .
Please give us a call if you would like to learn more about where we are going. Call (401.467.5200) or email ([email protected]) us today!
#HEATTREATTODAYCLASSOF2019 #VACUUMFURNACE