MTI is the largest network of heat treaters in the world and strives to fulfill its mission of enhancing the image and profitability of the heat treating industry. MTI has long term strategic goals to help educate & influence government and other regulatory bodies in addition to promoting contract heat treating to the captive market space.  This award is given in recognition of current/ongoing commitment over the previous year to the betterment of the Metal Treating Institute with one or more notable accomplishments. Pictured below from left to right are just a few of the amazing members of Gasbarre team that made this possible, Mike Harrison, Patrick Weymer, Ben Gasbarre, Anwelli Okpue and Eric Buchanan. Gasbarre would like to thank the team below in the picture and ALL of theGasbarre employees for everything they do every day to make us the company we are today!  To learn more about MTI go to https://www.heattreat.net/home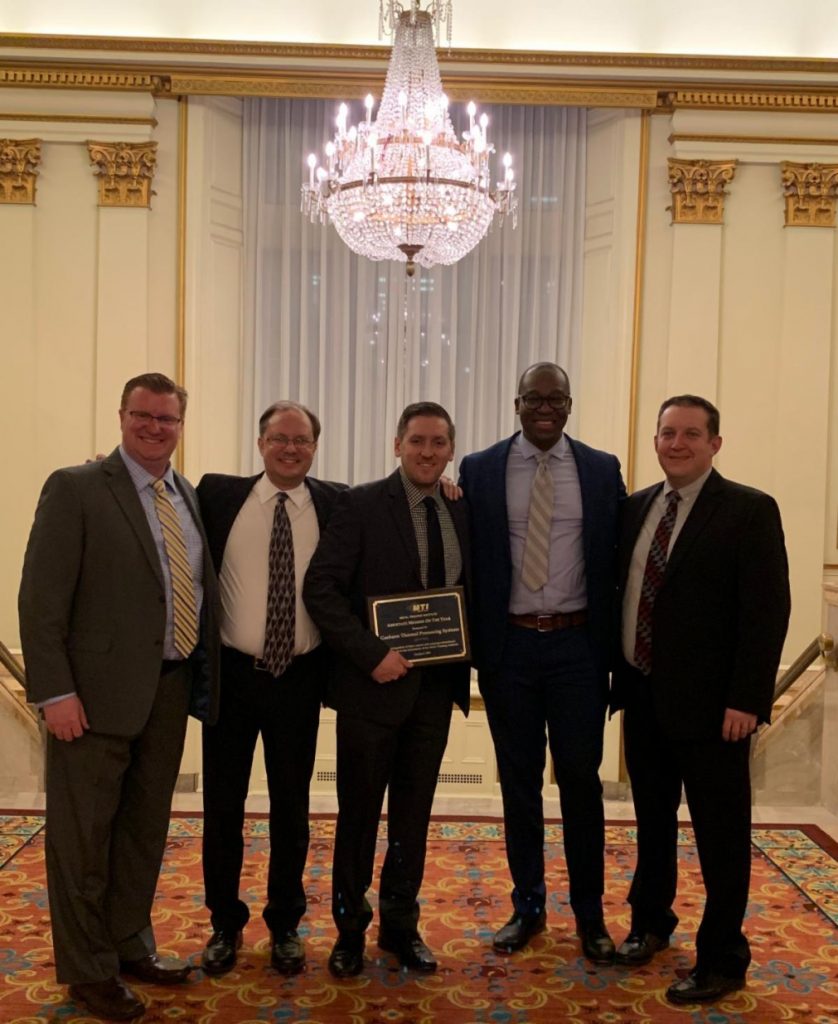 Gasbarre Thermal Processing Systems provides top quality industrial heat treating equipment, engineering, and service. With products ranging from batch furnaces to continuous belt furnaces, pusher furnaces, vacuum furnaces, humpback furnaces, and much more, we solve any application challenge with expertise and passion. Gasbarre, through our product models, Sinterite, C.I. Hayes, and Gasbarre Industrial Furnace Systems (formerly J.L. Becker), deliver the equipment to make your process consistently productive and profitable.
Gasbarre provides a full line of batch and continuous thermal processing equipment. Our equipment is designed to meet strict automotive and aerospace quality requirements; we are ISO 17025 accredited, and design to meet CQI9 and AMS 2750 standards.
Products:
| | |
| --- | --- |
| Box Furnaces | Vacuum Gas Purge for Nitriding & Ferritic Nitrocarburizing |
| Car-Bottom Furnaces | Vacuum Furnaces: Batch, Continuous, and Integral Quench |
| Charge Cars | HyperCooler Accelerated Cooling System for Sinter Hardening |
| Continuous Belt Sintering Furnaces | Oil Impregnators |
| Pit Furnaces | Dryers |
| Roller Hearth | Quench Tanks |
| Steam Treating | Endo/Exo and D/A Gas Generators |
| Tempering Furnaces Tip-up Furnaces | Parts Washers Water Cooling Systems |
| | |
Unmatached Gasbarre Support
Because the first day in operation of a Gasbarre furnace is the beginning of a long-term relationship, Gasbarre provides a dedicated field service group that can troubleshoot, evaluate, upgrade, rebuild or relocate your heat treat equipment. Our parts department offers service for all of your equipment replacement part needs. Gasbarre will be there when you need us. .
Please give us a call if you would like to learn more about where we are going. Call (401.467.5200) or email ([email protected]) us today!
# MTIAssociateMemberoftheYear #Goat #EmployeesFirst #CustomersAlways