On Friday January 17th, 23 students along with 3 support staff from Triangle Tech visited Gasbarre Products Press Division in DuBois, PA for a tour of the facilities. Triangle Tech offers hands-on training in small classes, taught by highly-experienced instructors, right herein DuBois, PA. Triangle Tech is an ACCSC nationally accredited technical school and has been named to Forbes Magazine's Top 30 Two-Year Trade Schools list!  To find out more about Triangle Tech, click here. The tour was guided by Gasbarre's very own Dave Boddorf and Travis Pierce. Jason Dixon provided a brief overview of the Fabrication Department which included our new valve test stands. Chuck Sherwood provided a tour and explanation of the Machine Shop.  Larry Dixon provided a demonstration of the Automation Demo Cell.  Andy Bailey and Jimmy Roberts teamed up to present the 550 ton Multi-motion Press in action for the group of students.  Travis gave the students a guide and explanation of the panel building process and the incorporation of the panels into the respective machines for a full electrical assembly demo.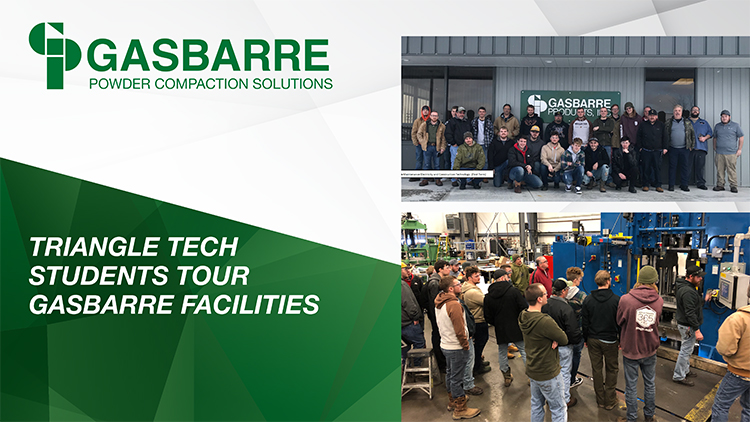 Gasbarre would like to wish a big thank you to all the Gasbarre employees that took the time to welcome and tour the Triangle Tech students. The students very much enjoyed the visit and visibly were excited and impressed at what we do here at Gasbarre! We hope to see some of those students soon after they graduate!
If you are someone that gets inspired by creativity and is driven by opportunity then Gasbarre is the place for you.  We have many opportunities open at our various different sites that you can find here: (Gasbarre Jobs).
If you are interested in either of these roles or any of our other amazing opportunities, please don't hesitate to call, email or apply online!  Please visit us at www.Gasbarre.com to find out more!