Gasbarre was recently hired to build a state of the art Hydraulic Press. With 7 hydraulic cylinders operating concentric punches and a linear servo actuator makes setup easy, produces complicated parts quicker and tool design becomes a breeze!  Read more to  see why both Gasbarre and Delta Computer Systems are excited.
Fluid Power World recently completed an article working with Delta Computer Systems and Gasbarre's very own Larry Shindledecker, Electrical Design Engineer and Heath Jenkins President of Press and Automation Business at Gasbarre. Fluid Power World is a print and digital magazine creator that delivers content to engineers, mechanical maintenance professionals and repair professionals.  Read more of the Fluid Power World article here: https://www.fluidpowerworld.com/multi-axis-motion-controller-synchronizes-press-operation/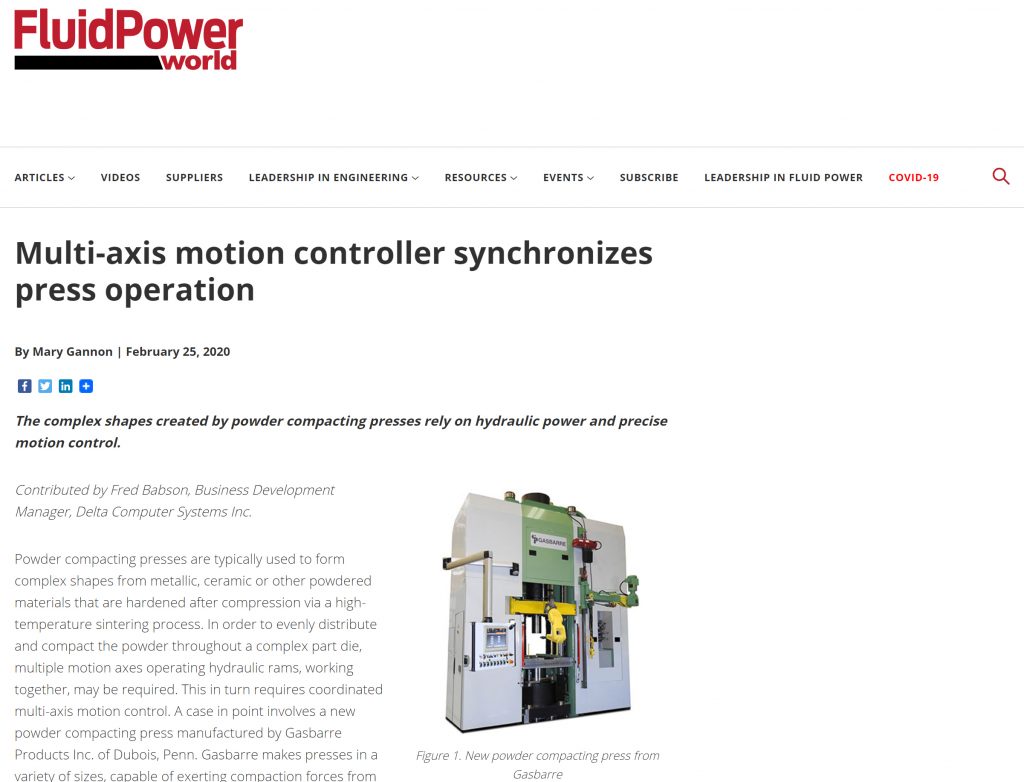 Why Choose Gasbarre?
Service
When manufacturers select Gasbarre,service comes first.  It is the mission of all of our members to ensure that our customers installed equipment is producing product effectively and efficiently.  Gasbarre's commitment to service has been a driving factor of our success.
Expertise
Gasbarre's expertise in design, engineering, machining, fabrication, and assembly has been earned over nearly 50 years in business. Our engineers, technicians, and assemblers have extensive experience in mechanical, electrical, and hydraulic applications, providing the breadth and depth of experience to support most any requirement.
Part of Your Business
The key to our success is based on listening to our customers' needs and finding solutions to those needs. Most importantly, we continue to work closely with each customer after the sale to ensure all of their needs are met. Gasbarre becomes an extension of our customers' business, a part of their success
Core Competencies
We custom design machinery,machine and fabricate, and assemble. Our engineering staff is equipped with the latest software technology, including 3D modeling. We consistently maintain and upgrade our fabrication, machining, and assembly equipment to ensure that we produce quality, cost effect components and assemblies.
Please give us a call if you would like to learn more about where we are going. Call(814.371.3015) or email ([email protected]) us today!