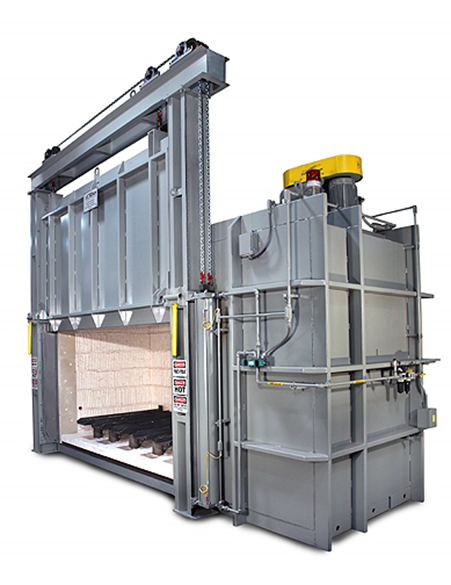 Gasbarre Thermal Processing Systems recently delivered a custom built batch tempering furnace to a commercial heat treating company located in the heart of the Aerospace industry on the West Coast of the United States. With a working load size of 168" wide, 48" deep, and 48" tall,coupled with a max load weight of 10,000 pounds, the furnace can accommodate a number of differently sized parts within its market. The gas fired air furnace passes survey at +/- 10℉over a temperature range of 850℉to 1350℉per AMS2750E. At our customer's request, the electrical controls are UL approved and include the latest in Eurotherm brand temperature controlling instrumentation. Gasbarre was chosen as the provider of this equipment because of our ability to provide key custom sizing at the desired temperature uniformity and proven performance from prior equipment purchases.
With locations in Plymouth, MI, Cranston, RI and St. Mary's PA Gasbarre Thermal Processing Systems has been designing,manufacturing, and servicing a full line of industrial thermal processing equipment for nearly 50 years. Gasbarre's product offering includes both batch and continuous heat processing equipment and specializes in Temper, Tip Up,Mesh Belt, Box, Car Bottom, Pit, and Vacuum Furnaces as well as a full line of replacement parts and auxiliary equipment which consists of atmosphere generators, quench tanks, and charge cars. Gasbarre's equipment is designed for your process by experienced engineers and metallurgists that understand your requirements.
###
For more information on how Gasbarre Thermal Processing Systems can manufacture custom-engineered heat treating equipment solutions for your specific thermal heating requirements, contact Eric Buchanan at (734) 855-5460 or via email at [email protected]. You can also visit our website at www.gasbarre.com and find us on LinkedIn (Gasbarre Products Inc.), Twitter (@gasproinc),and Facebook (Gasbarre Products Inc.).
Release Date: April 2020