Whether conducting press maintenance ad hoc or as part of an established regimen, Gasbarre's expert technicians provide the peace of mind that allows our customers to focus on what they do best – making quality parts.
Extend Press Life / Reduce Capital Expenditures
Reduce Downtime
Reduced Number of Major Repairs
Decreased Overtime Costs (Emergency Repairs/Lost Production)
Improved Safety
Increased Tool Life
Contributes to Positive Reputation
Improved Performance
ISO Compliance
Reduce/Eliminate Internal Maintenance Personnel Requirements
All Gasbarre equipment enrolled in any Gasbarre Preventive Maintenance Plan for a period of more than one (1) year is eligible to receive a placard (for placement on press) certifying the equipment's status as participating in the Gasbarre OEM Certified Preventive Maintenance Program.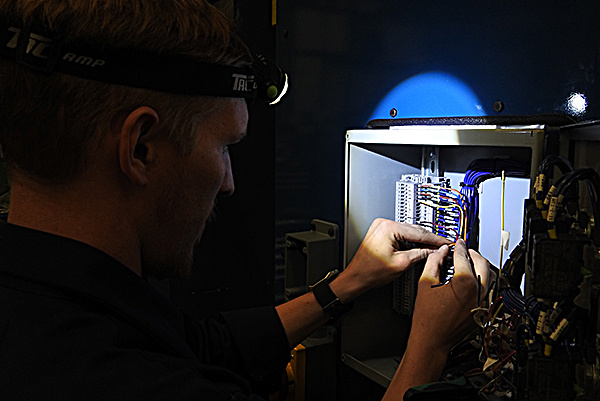 Goal
The goal of this service is to provide a means for Gasbarre customers to capture the full life cycle usefulness of our products by ensuring maximum performance through regularly scheduled service visits. The Gasbarre Service Team will develop a preventive maintenance plan to match your specific product and need. Gasbarre service technician(s) will visit your site on a regularly scheduled basis to inspect and test product functionality, inspect and adjust mechanical assembly connections for tightness and alignment, inspect moving parts for signs of abnormal wear and apply lubricant where needed. The technician will inspect the overall product integrity to confirm compliance with original Gasbarre product life cycle specifications. Product training and orientation can also be provided as a feature of this service.
Terms & Conditions
Gasbarre will provide preventive maintenance services, as defined in "Scope of Work"section of this document, on a semi-annual basis for presses specified by customer, for a term of no less than three years.  In addition to the preventive maintenance work performed as described in the "Scope of Work"section, any options selected under applicable tier plan will be included in monthly rate.
Per-press pricing is based on a combination of:
Size of Press
Number of Presses Included in Service Agreement (SA)
Service Plan Selected
Contracted rates exclude travel time and expenses where applicable.
This is not an extended warranty.  Repairs required to restore, repair or improve equipment are not included in Service Agreement and will be billed separately.
Monthly payments net 30 days.  Payments more than 30 days late will result in termination of service.
Maintenance plan will automatically renew annually after third year.  Cancellation by customer or Gasbarre must be submitted in writing with 30-day notice.
Service must be performed during regular business hours 7A-6P in the applicable timezone.  Service outside of these hours may be accepted for additional fee.
Scope of Responsibility
Gasbarre
Schedule certified installers to perform service
Ensure inspection is per manufacturer's specifications.
Conduct work in a timely manner Identify any open issues
Provide a service point of contact to the customer
Update equipment log(s)
Customer
Provide an authorized point of contact to the Service Team for scheduling and onsite coordination
Notify Gasbarre Service Team of any special clearance, security or insurance issues affecting their visit
Make dates available for scheduling of service
Provide a point of contact at completion for sign-off and acceptance
Identify any related work impacting service delivery
Please give us a call if you would like to learn more about where we are going. Call (814.371.3015)or email ([email protected] )us today!