Gasbarre has high speed multipack Anvil and Conventional Presses that are perfect for hard metals, ceramics, polymers, glass and so much more.  If you are looking for speed and precision then these could be the perfect solution for you!
Anvil pressing is a 'natural' for parts with one flat side.  The other side can be flat or multi-level.  The parts can have holes,teeth, etc. Our patented Unitzed Anvil design combines the powder feeder, anvil and vacuum pick up into one unit which is always in contact with the die plate virtually eliminating powder slippage. Parts are compacted against an anvil by the upward action of the lower punch.  There are no upper punches and associated problems of misalignment, breakage and wear.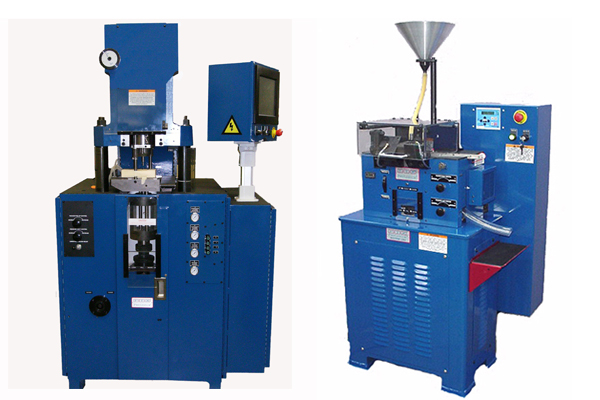 Specially designed for multiple cavities, high-speed,complex, and multi-level precision parts. Multipak conventional presses offer powder transfer from top and bottom punches, a pre-press with the top punch,and a top punch hold-down system.  With a standard removeable tool set, tool assembly is done off-line and can be replaced and adjusted within about 15 minutes. The same tool set may be used for a wide variety of parts. 
The Multipak conventional press may also be used in 'Anvil Press' mode.
Please give us a call if you would like to learn more about where we are going. Call (814.371.3015) or email ([email protected]) us today!