Gasbarre Car Bottom Furnaces are capable of achieving numerous metallurgical processes, including annealing, normalizing, quenching, speroidize annealing, stress relief and tempering. They can accommodate various heating types with a temperature range of 300-2,200°F (149-1,204°C) and a load capacity up to 100,000 lb under atmosphere or air.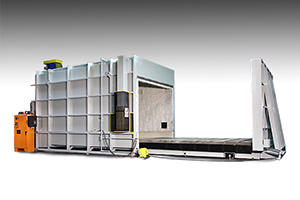 FEATURES
Heating: Gas or Electric
Temperature Range: 300-2,200°F (149-1,204°C)
Insulation: Fiber, Brick or Castable
Load Capacity: Up to 100,000 lb
Atmosphere:Nitrogen, Methanol, Endo Gas, Natural Gas, Ammonia or Air Meets AMS 2750 Requirements
EQUIPMENT CUSTOMIZATION
PLC Control
Recirculating Fans
Computer Management System
Variable Load Sizes and Capacities
Manual or Automatic Load Systems
Dual Car Loading Capability
With products that range from batch furnaces to continuous belt furnaces, pusher furnaces, vacuum furnaces, humpback furnaces,and much more, Gasbarre can solve any application challenge with the expertise and passion needed to drive your success.
Our equipment is designed to meet strict automotive and aerospace quality requirements; we are ISO 17025 accredited, and design to meet CQI9 and AMS 2750 standards.Please give us a call if you would like to learn more about where we are going. Call(734.656.2000) or email ( [email protected] ) us today!