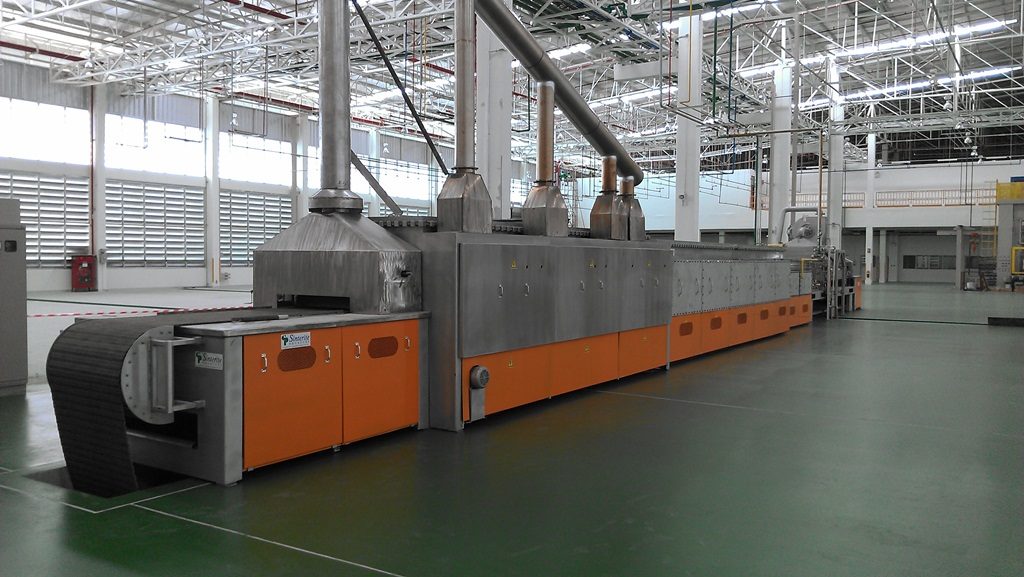 Gasbarre Thermal Processing Systems recently rebuilt and shipped a 24-inch, four zone continuous mesh belt brazing furnace for an automotive parts supplier in Mexico. There build included a new 330 stainless steel muffle, new silicon carbide heating elements, new cooling sections, and new furnace controls to meet CQI-9 requirements. The CQI-9 controls package includes data acquisition, preventative maintenance alerts, remote connectivity, furnace parameter trending, and temperature deviation alarms. Gasbarre was chosen as a partner for their brazing expertise, unique controls package,and ongoing service and support of the customer in Mexico.
With locations in Plymouth, MI, Cranston, RI and St. Marys PA Gasbarre Thermal Processing Systems has been designing,manufacturing, and servicing a full line of industrial thermal processing equipment for nearly 50 years. Gasbarre's product offering includes batch and continuous thermal processing equipment for both atmosphere and vacuum applications as well as a full line of alloy fabrications, replacement parts and auxiliary equipment which consists of atmosphere generators, quench tanks,washers and charge cars. Gasbarre's equipment is designed for your process by experienced engineers and metallurgists that understand your requirements.
###
For more information on how Gasbarre Thermal Processing Systems can manufacture custom-engineered heat treating equipment solutions for your specific requirements, contact Bill Gasbarre at (814) 590-6282 or via email at [email protected]. You can also visit our website at www.gasbarre.com and find us on LinkedIn (Gasbarre Products Inc.), Twitter (@gasproinc),and Facebook (Gasbarre Products Inc.).
For Mexico contact Humberto Bastidas at 449 256 40 08 or via email at humberto@thermaltechnic.com
Release Date: June 2020