Gasbarre Integral Quench Furnaces are batch type units equipped with recirculating fan, radiant tubes, enclosed vestibule and integral quench tank and compatible with many existing furnace lines. The furnaces are capable of numerous processes including annealing, neutral hardening, carburizing, carbonitriding, and other heat treating processes where a controlled environment is required during the heating and quenching portion of a cycle. As an option, the furnaces can be configured for ferritic nitrocarburizing.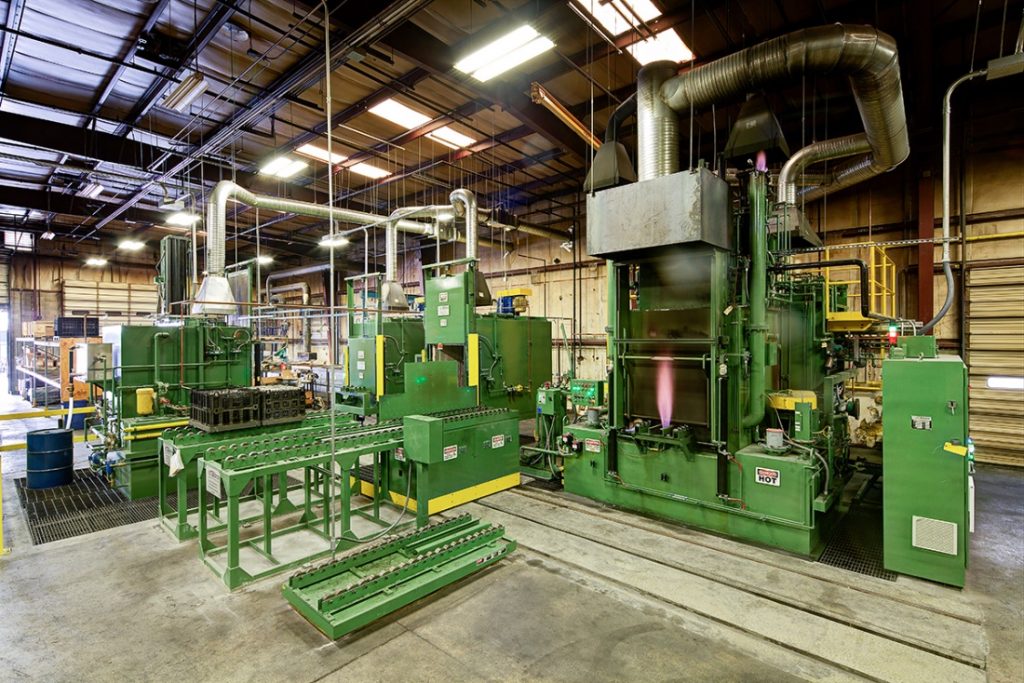 Key Features
Heating: Electric with SCR Control or Gas with Recuperation
Temperature Operating Range: 1500°F to 1750°F
Temperature Uniformity: ±25°F
Insulation: Refractory Brick on Floor and Walls and Ceramic Fiber Modules on Roof
Meets AMS 2750 and CQI-9 Requirements
PLC and HMI Enables Recipe Management
Electronic Process Gas Flow Control using either Endothermic or Nitrogen/Methanol along with Natural Gas, Air, and/or Ammonia
Carbon Potential Control
Plug Mounted, Air-Cooled, Indirectly Driven Circulating Fan Assembly
Variable Speed Agitation
Air Cooled Quench Oil Heat Exchanger
Pneumatically Operated Vertical Lift Doors and Quench Elevator
Flame Curtain
Excellent Front Quench Adjustable Door Seal
Common Customization Features
Fully Compatible with Existing Equipment
Upper Atmosphere Cooling (Top Cool) Chamber
Hot Oil Quenching
Insulated Quench Tank
High Temperature Operation (1500°F – 1950°F)
Quench Oil Filtration System
Available Companion Equipment
Temper Furnaces
Spray and Dunk Washers
Endothermic Gas Generators
Charge Cars
Scissors Lift Tables
Holding Stations
Cooling Stations
Please give us a call if you would like to learn more about where we are going. Call (734.656.2000) or email ( [email protected] ) us today!