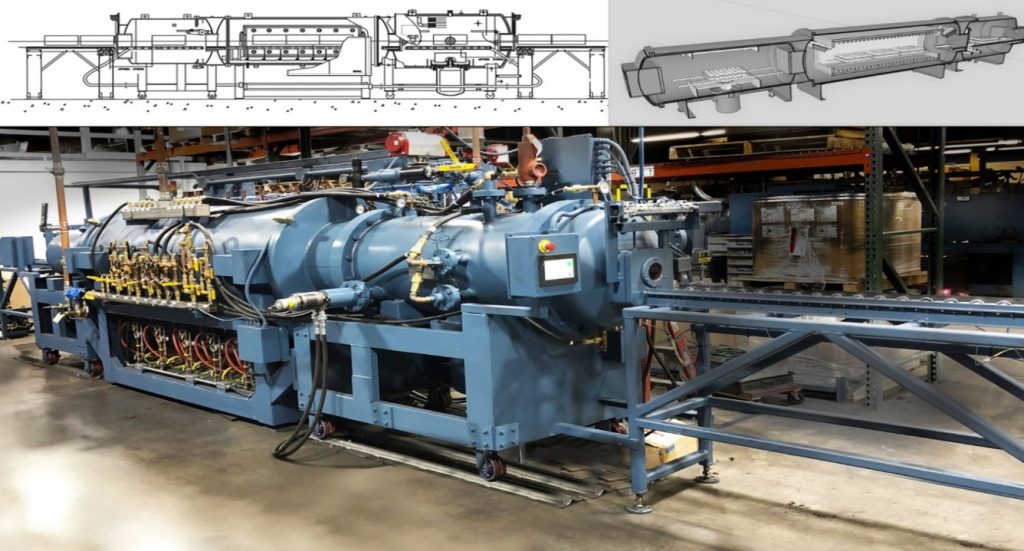 Gasbarre Thermal Processing Systems is pleased to announce the recent shipment of a Continuous Vacuum Furnace with 10 BAR pressure quench capabilities to a major aerospace manufacturer in North America.  The 4 position, 4 zone furnace is rated to 2400°F.  The independent load and quench modules allow the heat module to hold temperature and vacuum creating an extremely pure environment. Extended heating element coverage allows for excellent temperature uniformity.  As only the workload is cooled in the isolated cooling chamber, it makes for a very efficient system.  Quick transference from the heat module to the cool module and fast quench capabilities make this an ideal vacuum furnace to process medium to high volume parts. Gasbarre was chosen as the equipment supplier based on proven performance from past projects with this manufacturer, as well as, extremely low down time metrics with their existing Gasbarre vacuum furnace equipment.
With locations in Plymouth, MI, Cranston, RI and St. Marys, PA Gasbarre Thermal Processing Systems has been designing,manufacturing, and servicing a full line of industrial thermal processing equipment for nearly 50 years. Gasbarre's product offering includes batch and continuous thermal processing equipment for both atmosphere and vacuum applications as well as a full line of alloy fabrications, replacement parts and auxiliary equipment which consists of atmosphere generators, quench tanks,washers and charge cars. Gasbarre's equipment is designed for your process by experienced engineers and metallurgists that understand your requirements.
###
For more information on how Gasbarre Thermal Processing Systems can manufacture custom-engineered heat treating equipment solutions for your specific thermal processing requirements, contact Patrick Weymer at (815) 721-6467 or via email at [email protected]. You can also visit our website at www.gasbarre.com and find us on LinkedIn (Gasbarre Products Inc.), Twitter (@gasproinc),and Facebook (Gasbarre Products Inc.).
Release Date: August  2020