Gasbarre Thermal Processing Systems is excited to announce the shipment of a 60" wide x 90" deep x 30" tall atmosphere box sintering furnace. The batch sintering furnace will be installed at Mueller Brass Co., a major supplier of brass rod and forgings in the United States. The box furnace is designed with a maximum operating temperature of 1650°F, a capacity of 14,000 pounds, and utilizes a nitrogen atmosphere. The system incorporates an Allen-Bradley PLC with SSi 9130 control and 12.1" HMI display. The indirect fired gas heating system incorporates parallel positioning control for efficiency and process flexibility. An integrated oxygen analyzer ensures proper furnace environment prior to heating. The accelerated gas cooling system improves floor-to-floor cycle time for the customer's demanding production needs. Gasbarre was selected as the equipment manufacturer based on their expertise in material processing, responsiveness to service the end user, and positive experiences with prior equipment purchases.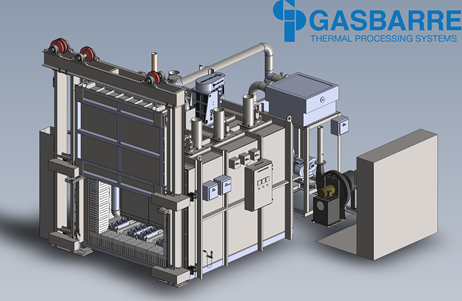 With locations in Livonia, MI, Cranston, RI, and St. Marys, PA, Gasbarre Thermal Processing Systems has been designing, manufacturing, and servicing a full line of industrial thermal processing equipment for nearly 50 years. Gasbarre's equipment is designed for your process by experienced engineers and metallurgists that understand your requirements.
With so many companies out there – and so many questions – it can be difficult to figure out where to even start when you're looking to purchase, replace, or upgrade heat treating equipment. Gasbarre Thermal Processing Systems provides top quality industrial heat treating equipment, engineering, and service. Gasbarre, through our brands Sinterite, C.I. Hayes, and Gasbarre Industrial Furnace Systems (formerly J.L. Becker), delivers the equipment to make your process consistently productive and profitable.
For more information on how Gasbarre can manufacture custom-engineered heat-treating equipment solutions for your specific thermal processing requirements, please contact Eric Buchanan at 734.656.2000 or via email at [email protected]. You can also visit our website at www.gasbarre.com and find us on LinkedIn (Gasbarre Products Inc.), Twitter (@gasproinc), and Facebook (Gasbarre Products Inc.).