It is time for the MPIF Sintering Seminar. The two-day event, which is held every two years, is aimed at industry professionals either new to sintering or looking to further expand their knowledge of the process. Topics covered will include basic theory and practices, sintering at normal or elevated temperatures, improving properties of PM parts, the latest equipment and efficiency, as well as debinding and sintering of MIM and sinter-based metal AM components. Mark Saline, President-Gasbarre Thermal Processing Systems, is a co-chair of this year's event at the Penn Stater Conference Center in State College, PA.
Mark, a subject matter expert, will also be presenting on two topics:
Conventional Sintering Furnaces – A walk through the sintering furnace and its design.

Fundamentals of Vacuum Sintering – Vacuum furnace design, advantages, and applications.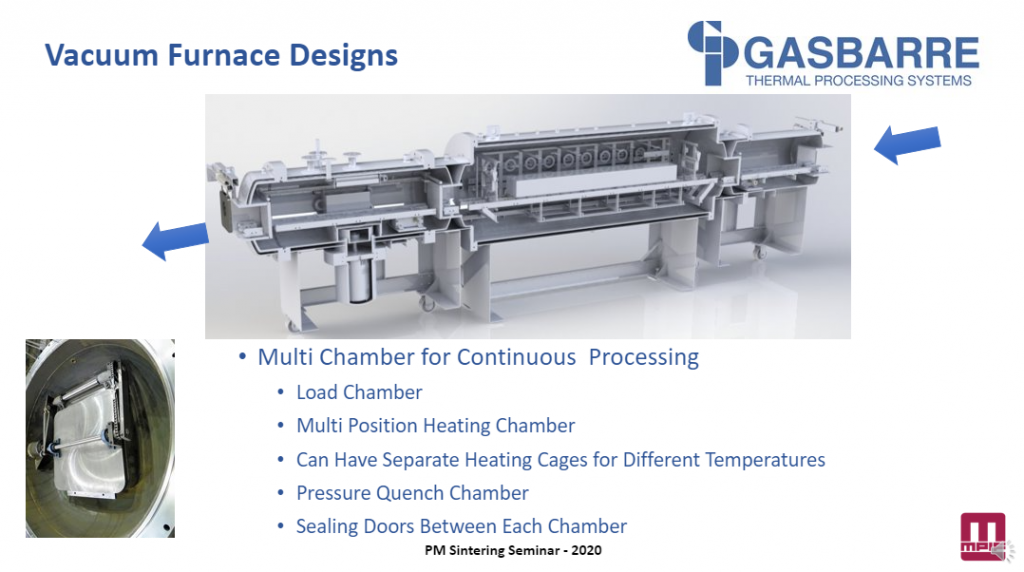 With locations in Livonia, MI, Cranston, RI, and St. Marys, PA, Gasbarre Thermal Processing Systems has been designing, manufacturing, and servicing a full line of industrial thermal processing equipment for nearly 50 years. Gasbarre's equipment is designed for your process by experienced engineers and metallurgists that understand your requirements.
With so many companies out there – and so many questions – it can be difficult to figure out where to even start when you're looking to purchase, replace, or upgrade heat treating equipment. Gasbarre Thermal Processing Systems provides top quality industrial heat treating equipment, engineering, and service. Gasbarre, through our brands Sinterite, C.I. Hayes, and Gasbarre Industrial Furnace Systems (formerly J.L. Becker), delivers the equipment to make your process consistently productive and profitable.
For more information on how Gasbarre can manufacture custom-engineered heat-treating equipment solutions for your specific thermal processing requirements, please contact us at 814-834-2200 or via email at [email protected]. You can also visit our website at www.gasbarre.com and find us on LinkedIn (Gasbarre Products Inc.), Twitter (@gasproinc), and Facebook (Gasbarre Products Inc.).