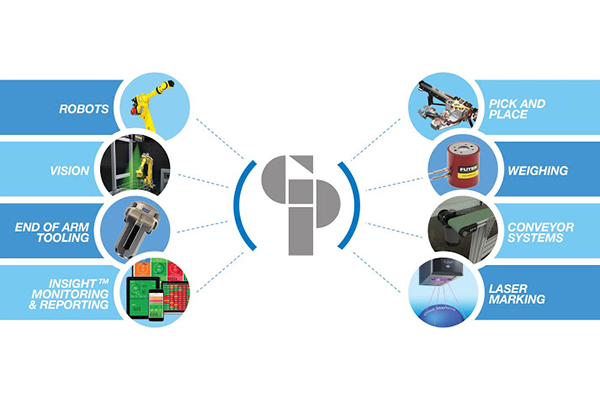 How can Gasbarre Automation Products help you?
Robots
Being an Authorized Systems Integrator, Gasbarre offers the full line of Robots and accessories from FANUC. With payload capacities that range from 4kg to over 1000kg, we can tailor fit a robot to fit your needs. Not sure if a robot can effectively handle your process? Give us a call today and we'll complete a comprehensive process survey and help you make that decision.
Vision
Gasbarre works with the top names in industrial vision today. Keyence, Cognex and FANUC offer a wide variety of vision products that have impressive capabilities. From part and pattern recognition to visual defect detection, the vision experts as Gasbarre can utilize this technology to help you achieve things you may have never thought possible.
EOAT
From pneumatic and electric grippers to custom designed vacuum tooling, Gasbarre has the prowess to handle your needs. Key relationships with SHUNK for gripping and SHCMALZ for vacuum allow us to offer you the latest technology.
INSIGHT
Data is what drives the numbers. If you can see where you are now, you can't plot a course to get where you want to be. INSIGHT Equipment monitoring from Gasbarre allows you to visualize, at a moment's glance, manufacturing data that can help you improve throughput and efficiency.
P&P
Over the years, Gasbarre has become very adept at picking things up and putting them back down. An easy concept but not always easy in execution. Sometimes more cost effective and faster than an industrial robot, Custom designed Pneumatic and Servo driven P&P's may be the option you've been looking for.
Weighing
Density's got you down? Add a weighing system to you process and verify part specifics before expending resources on bad production. Gasbarre can do that!
Conveyor systems
Gasbarre offers a comprehensive line of conveyors from leading names in the business as well as the ability to design and produce custom conveyors in our facility. Whichever the case may be, we can find the best fit for your conveying needs.
Laser Marking
Adding laser marking to your production processes can have many advantages. From the ability to track part defects to adding customer desired info on the parts, laser marking may be what you've been looking for.