Ammonia Dissociators
The C.I. Hayes ADG Series Ammonia Dissociators are designed to be an economical source of pure, dry, highly reducing atmosphere. The product gas of hydrogen-nitrogen is produced by dissociation of anhydrous ammonia vapor.
Dissociated ammonia provides an excellent reducing atmosphere for a variety of applications that include brazing and/or bright annealing of stainless steel, copper, brass, beryllium copper, nickel, nickel alloys and silicon iron. Other applications include bright hardening of tool and martensitic stainless steels and powder metal sintering.
The ADG Series Ammonia Dissociators range from 150 scfh to 5,000 scfh at a standard outlet line pressure of 10 psig. The resulting dissociated product gas is comprised of 75% hydrogen and 25% nitrogen. When utilizing a high quality "metallurgical grade" of ammonia vapor as the supply gas, a dissociated product of 99.97% purity will be maintained. The moisture content of the product will be less than 40 ppm, or a minimum dew point of -50°F. Lower dew points and lower residual ammonia content may be obtained with the addition of the C.I. Hayes MSA Series Molecular Sieve Dryer.
Atmosphere Dryers
The C.I. Hayes MSA Series desiccant "Molecu-Dryers" are designed to produce consistently low dewpoints in a wide variety of gases. The units are safe for use in drying flammable gases such as hydrogen, dissociated ammonia and forming gas.
The compact dryer contains two adsorption chambers mounted on a base and encased in a ventilated metal housing. With two chambers, the dryer is capable of continuous operation. While one chamber is adsorbing, the other is regenerated, cooled and made ready for the next adsorption cycle. Molecular sieve pellets are used as the desiccant.
The C.I. Hayes "Molecu-Dryer" will produce dewpoints of -100°F, or lower, in most gas drying applications when properly sized. For exothermic gas, the dryer is operated in conjunction with a refrigeration unit. The latter reduces the dewpoint of the exothermic gas to about +40°F before the gas enters the dryer.
Batch Washers
Heating:  Gas or Electric
Gasbarre IFS offers Batch Washers in both single and dual chamber configurations. Both with many features and options for customization.
Features:
FM-IAI Safety Standards
JIC Machine Wired
Full Compatibility
Level Control
Automatic Control
Spray Only
Surface Skimming Nozzles
Vertical Mounted Pump
Access Clean Out Door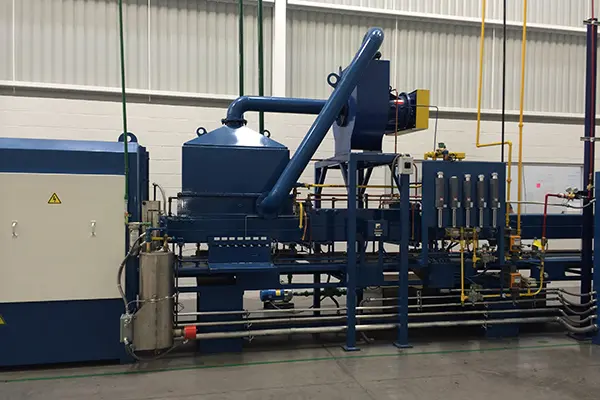 Options:
Double Deck Elevator
Spray Dunk Agitation
Oil Skimmer Systems
Insulated Tank
Heated Drying System
Hyper Cooler – Sinter-Hardening System, Rapid Cooling System
Based on proprietary impinging jet array technology, Sinterite's  HyperCooler improves variable cooling adjustment and atmosphere stability with superior levels of process capability.
Endothermic Atmosphere Generators
The C.I. Hayes Endothermic Atmosphere Generator provides protective atmosphere of medium or high carbon potential. Standard sizes range from 150 CFH to 3,000 CFH.
Gasbarre IFS also offers a wide range of atmosphere generators including Endothermic Atmosphere Generators. Capacities range from 500-20,000 CFH to suit any of your production needs.
Exothermic Atmosphere Generators
The C.I. Hayes Exothermic Atmosphere Generator provides oxidizing and medium reducing atmospheres. Standard sizes range from 500 CFH to 10,000 CFH. The recently updated design meets NFPA 86C and includes Honeywell flame detection. They can be supplied 50 or 60 Hz.
Gasbarre IFS offers a wide range of atmosphere generators including Exothermic Gas Generators. Capacities range from 500-20,000 CFH to suit any of your production needs.