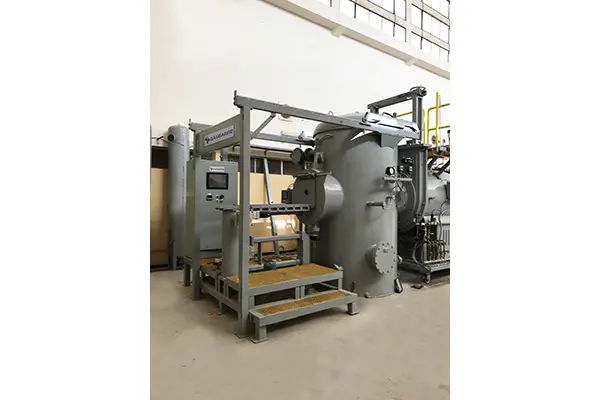 Modular Vacuum Oil Quench
The C.I. Hayes Oil Quench – Dual Chamber vacuum furnace is quite versatile, designed for a wide range of heat treat applications. The oil quench module is combined with a heating module and an internal drive mechanism that provides for a fast, smooth transfer of the workload. Excellent uniformity is achievable in the heating chamber that is typically comprised of layers of graphite and/or ceramic insulation board or blanket. Temperatures to 2400°F are typical and cover many processes though higher temperature capabilities are offered.
With the inclusion of an internal vacuum door (valve section), the heating chamber may be isolated from the oil quench chamber. Consequently, the heat chamber may remain at temperature and under vacuum during loading and unloading of the furnace. This allows for faster floor-to-floor times and higher efficiency as only the workload is heated. And as it is not exposed to room air and humidity (except during maintenance), the heating chamber is extremely pure. Maintenance to the heating chamber is simplified with the provision of a rear hinged access door.
With the addition of a loading or preheat module, the dual chamber vacuum furnace may be converted to a Continuous Vacuum Furnace.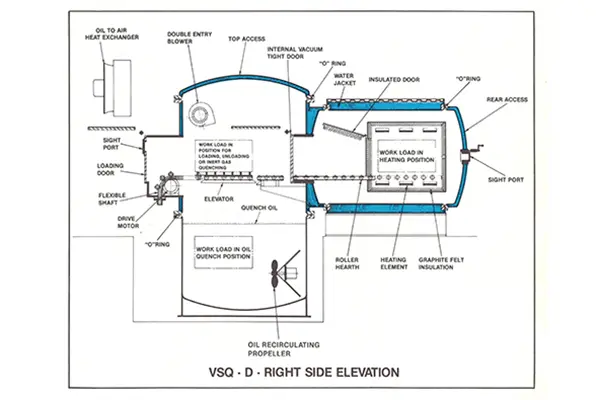 Metallurgical Processes
Annealing
Brazing
Carbonitriding
Carburizing
Hardening
Quenching
Sintering
Email Us Now About Gasbarre Oil Quench – Dual Chamber Furnaces
Call Today @ 401.467.5200