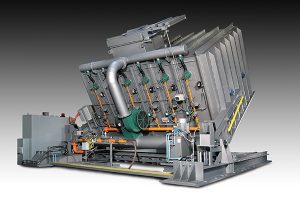 Batch Atmosphere
Heating:  Gas, Electric or Propane
Temp Range:  400-2300°F (204-1260°C)
Load Capacity:  1,500 – 150,000 lbs.
Uniformity:  +/- 15°F
Gasbarre Tip Up Furnaces are ideal for processing large, heavy workloads. Our design engineers select the insulation, circulating system, atmosphere system and heating system to meet each customer's specific processing requirements. Atmosphere systems can make this style furnace perfect for ferritic nitrocarburizing, carburizing, annealing and normalizing. Heat can be provided by energy efficient gas-fired burners or electric resistance elements.
Equipment Customization
PLC Control
Recirculating Fans
Computer Management System
Variable Load Sizes and Capacities
Atmospheres (Nitrogen, Methanol, Endo Gas, Natural Gas, Ammonia or Air)
Metallurgical Processes
Annealing
Carbonitriding
Carburizing
Ferritic Nitrocarburizing
Inert Atmosphere Processing
Normalizing
Spheroidize Annealing
Stress Relieving
Tempering
Are you in the market for a Tip Up Furnace? Gasbarre has just what you need! Wait till you see this!
This furnace has an operating temperature of 800⁰F – 2200⁰F and an automated 60 second time to quench capability! The quench system is a 110,000 gallon polymer. This furnace has a maximum load size of 32′ wide 6′ deep 4′ tall and 40,000 lbs. All furnaces can be customized to meet your needs!
Email Us Now About Gasbarre Tip Up Furnaces
Call Today @ 734.656.2000