Gasbarre has been building mechanical, electrical, and hydraulic presses for nearly 50 years. During that time advancements have helped improve these pieces of machinery, but nothing like what we recently accomplished with our new hydraulic press!  The Gasbarre team spent countless days and hours working through all aspects of our Hydraulic Press to meet and exceed our customers' needs today and well into the future.  We believe with these enhancements we have created a best in class Press that will improve your bottom line!  Read on to see the list of changes and benefits that came with them!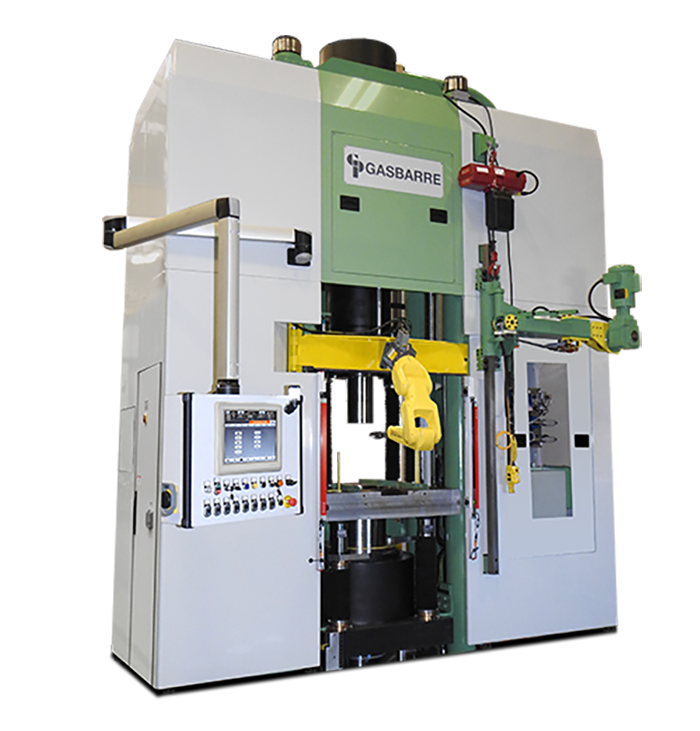 Physical
Change
Surround guarding around all above-floor hydraulics
Aesthetic upgrade (rounded corners, etc)
Lighter guarding
Sliding doors
Powder coated
Pre-designed guarding
See-through front panel
Benefit
Mitigates pressure injection hazard
Appeals to customer desire for an upgraded plant floor appearance
Easier to move/remove
Reduced need for panel removal – easier access for maintenance and troubleshooting
Easier to wipe down, resistant to scratches, chipping, etc.
Not custom fit and molded from scratch. Easier to order and replace if damaged.
Allows natural light into service area
Hydraulics
Change
Fixed Displacement Vane Pumps changed to Variable Displacement
HPU Layout Simplified
Integrated Manifold Design
Upper Ram Manifold Moved Lower
Smaller Control Valves System-Wide
Fewer valves
Benefit
Fewer parts, no unloading circuits (plumbing/valving reduction) More reliable
Easier to get to in order to service (waist level)
30% fewer leak points
Centralized area for service/troubleshooting
No ladder needed for service/maintenance
More accurate/repeatable
50% Less Expensive
Fewer leak points and less expense
Higher reliability
Better availability
Capabilities
Change
Full Tonnage on All Levels
Shorter Cycle Times
Case Drain Flow Indication Via Sensor on All Pumps (7)
Pressure Transducers – 34 Total
Dual Flow & Temperature Sensors
Particle Counter & Water Content Sensor
Resolution of Linear Transducers Halved
Progressive Filter Status
Benefit
Vastly Increased Capabilities
Higher throughput, easier ROI for customer
Indicates health of pump via HMI
Measure tonnage on every level
Easier troubleshooting
Monitor critical parameters such as cooling water
Oil health – #1 contributor to failures
Reduced source of error (1 vs. 0.5 micron)
Warning of need for filter change in advance of need
Diagnostics & Production information Preventive Maintenance
Delivery
Change
34-38 weeks standard. If engineering required, 44-48 weeks.
Benefit
Faster ROI for customer
Why Choose Gasbarre?
Service
When manufacturers select Gasbarre, service comes first. It is the mission of all of our members to ensure that our customers installed equipment is producing product effectively and efficiently. Gasbarre's commitment to service has been a driving factor of our success.
Expertise
Gasbarre's expertise in design, engineering, machining, fabrication, and assembly has been earned over nearly 50 years in business. Our engineers, technicians, and assemblers have extensive experience in mechanical, electrical, and hydraulic applications, providing the breadth and depth of experience to support most any requirement.
Part of Your Business
The key to our success is based on listening to our customers' needs and finding solutions to those needs. Most importantly, we continue to work closely with each customer after the sale to ensure all of their needs are met. Gasbarre becomes an extension of our customers' business, a part of their success
Core Competencies
We custom design machinery, machine and fabricate, and assemble. Our engineering staff is equipped with the latest software technology, including 3D modeling. We consistently maintain and upgrade our fabrication, machining, and assembly equipment to ensure that we produce quality, cost effect components and assemblies. Please give us a call if you would like to learn more about where we are going. Call(814.371.3015) or email ([email protected]) us today!