Nitriding Furnace
Nitride hardening is a versatile process that contributes to the manufacturing of numerous products, from aircraft parts to medical devices to power generation components. When you invest in reliable gas nitriding furnaces from Gasbarre, you'll improve the quality and durability of your ferrous products.

What Is Nitriding?
Nitriding introduces nitrogen into a solid ferrous alloy by holding above the critical temperature (Ac1) in contact with a suitable nitrogenous material which may be solid, liquid or gas. Quench hardening is not required to produce a hard case.
Other common names and related subjects are case hardening.*
What Is a Nitriding Furnace?
Nitriding furnaces are heat treat furnaces designed to support the nitriding process. These ovens expose parts to active nitrogen at controlled temperatures to harden the metal, producing robust, wear-resistant products with high fatigue strength and long service life. Nitride hardening furnaces are typically used for ferrous-based materials, such as alloy steel, titanium, brass, zirconium and stainless steel.
Our Gas Nitriding Furnaces
Gasbarre specializes in the design and manufacturing of custom-engineered nitriding furnaces specific to the thermal processing industry. As a full-service international nitrogen furnace manufacturer, we provide our customers with top-of-the-line products that set the standard for quality and dependability while delivering outstanding customer service. When you purchase gas nitriding furnaces from us, you'll experience unmatched power and reliability on the job site.
Gasbarre furnaces are:
Built to rigorous standards using advanced technologies and materials.
Reliable, providing years of operation at process temperature extremes.
Configurable with features and options to meet your specific needs.
Backed by superior customer service and a promise that our technical staff will work with you to configure a nitriding furnace that will not only satisfy your needs, but exceed your expectations!
Get Nitriding Furnace Quote
Gasbarre's complete line of nitriding furnaces is listed below.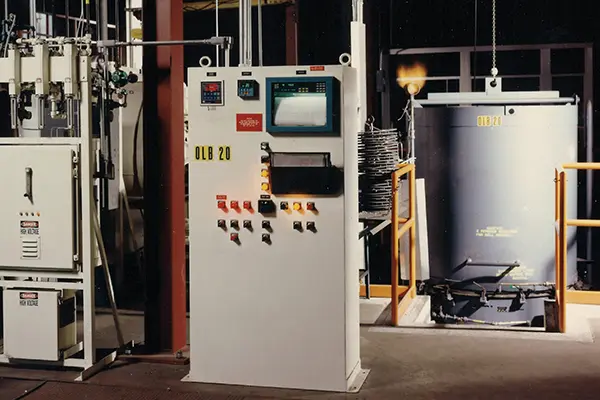 Bell/Retort
This C.I. Hayes furnace is designed for heat-treating applications requiring close control of both temperature and protective atmosphere. Our bell furnaces are compact, consistent and designed for use with numerous gases and applications, such as soldering, tempering, aging and stress relief.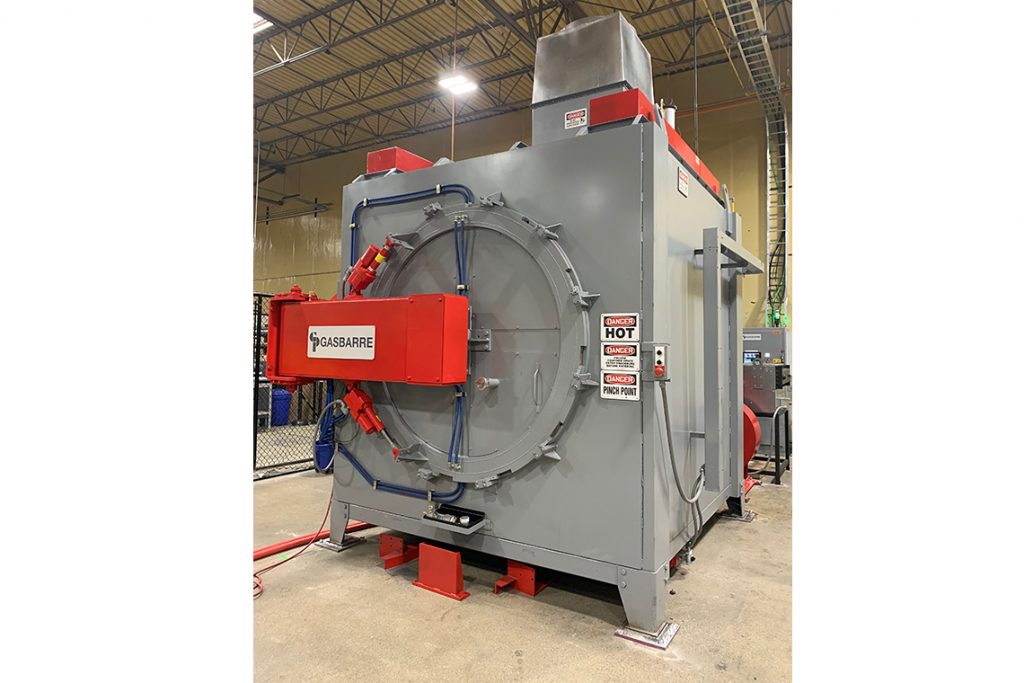 Nitriding & FNC Batch
The vacuum-purge gas nitriding system is a batch-type unit designed for nitriding and ferritic nitrocarburizing processes. This specialized furnace comprises a vacuum pump that facilitates rapid purging and an integral retort designed for efficient atmosphere circulation using a fan and inner baffle. Our batch nitriding furnaces are ideal for steam treating, tempering, stress relieving and ferritic nitrocarburizing applications.



Pit
Gasbarre pit furnaces are available in numerous sizes and configurations, with features and options customized to your unique needs. These batch atmosphere furnaces feature flexible load configurations, durable load supports and full compatibility with existing equipment. Pit nitriding furnaces are suitable for hardening, annealing, carbonitriding, quenching, inert atmosphere processing and more.
*Source: Daniel H. Herring, "The Heat Treat Doctor." The HERRING GROUP, Inc.
An Introduction to Nitriding Processes and Equipment
Learn about a process that continues to grow in popularity across industries. Gasbarre has various types of equipment available for the nitriding and FNC processes with industry leaders and engineers to help you explore new business.
The featured video addresses the topics listed in the following webinar outline:
Nitriding/FNC process overview
Process comparison
Trade names
Typical applications
Equipment overview
Considerations in process selection
Our Custom Nitriding Furnace Fabrication Capabilities
We understand that every company has unique manufacturing needs — that's why we offer gas nitriding furnaces customized to your specifications. When you come to Gasbarre for custom fabrication services, we'll take the time to understand your needs and determine how to incorporate your custom equipment into your organization's processes.
Our next-level engineering capabilities include:
Angle rolling.
Machining.
Bending.
Welding.
Metal cutting.
Facilities.
Ironworkers.
Steel inventory.
Rolling.
Benefits of Nitride Hardening Furnaces
Nitride hardening is ideal for improving your company's products with greater quality and durability. Some of the many advantages of using nitriding furnaces include:
Increased surface hardness.
Reduced friction.
Improved wear resistance.
High fatigue strength.
Corrosion resistance.
Increased compressive stress.
Why Choose Gasbarre as Your Go-To Nitriding Furnace Manufacturer?
Gasbarre has served DuBois, Pennsylvania, and beyond with a comprehensive range of products and services since its establishment in 1973, and we're still committed to quality and dependability today. It's our priority to provide customers with equipment that creates as much product as possible. That's why we'll stop what we're doing to serve you amid even your most urgent equipment needs, whether it's a weekend or holiday.
We never discontinue old products and services to drive new equipment sales — rather, we set ourselves apart from other companies by servicing machines with their equipment life in mind, making us a company you can trust.
Let Gasbarre become your trusted partner. Contact us for a quote today.
If you're looking for an expert nitriding furnace manufacturer, Gasbarre is your solution. We've spent over 45 years generating high-quality manufacturing equipment while offering unbeatable services and customer support.
Contact us online to learn more about our products, or call 814-371-3015 to speak to one of our experts today!
Contact Gasbarre