What is Ferritic Nitrocarburizing?
Nitrocarburizing is a case hardening process, similar to nitriding, involving the introduction of nitrogen and carbon into a solid ferrous alloy by holding below the lower critical temperature (Ac1) in contact with a suitable nitrogenous and carbonaceous material. A thin nitrogen and carbon enriched layer, possibly with accompanying carbonitrides and nitrides is produced. The compound layer (or white layer) with an underlying diffusion zone contains dissolved nitrogen and iron (alloy) nitrides. Quenching is not required to produce a hard case.
Other common names and related subjects are: case hardening, ferritic nitrocarburizing (FNC) and austentic nitrocarburizing (ANC) the latter two designations referring to temperature below or slightly above the lower critical temperature.*
Gasbarre specializes in the design and manufacture of custom-engineered ferritic nitrocarburizing furnaces specific to the thermal processing industry.
Gasbarre furnaces are:
built to rigorous standards using advanced technologies and materials
reliable, providing years of operation at process temperature extremes
configurable with features and options to meet your specific needs
backed by superior customer service and a promise that our technical staff will work with you to configure a ferritic nitrocarburizing furnace that will not only satisfy your needs, but exceed your expectations!
Gasbarre's complete line of Ferritic Nitrocarburizing Furnaces is listed below.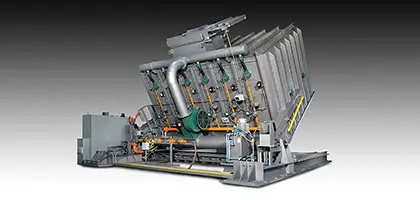 Tip Up
Gasbarre IFS Tip Up Furnaces are ideal for processing large, heavy workloads.
*Source: Daniel H. Herring, "The Heat Treat Doctor." The HERRING GROUP, Inc.