Gasbarre Thermal Processing Systems Solitaire furnace is typically manufactured and shipped as a single piece, fully assembled, with single point connections for power, water and atmosphere. Installation couldn't be much simpler.  Typically provided with a 6" wide wire mesh belt, the Solitaire can be supplied for operation to 1800°F or 2100°F and with heated lengths to 72".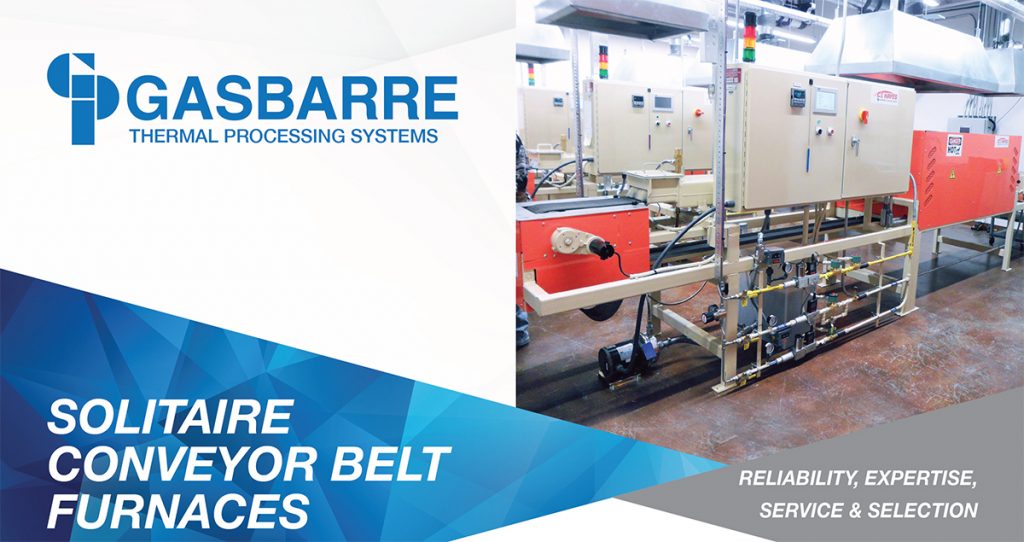 This furnace is great for annealing, brazing, glass to metal sealing, hardening, sintering, and soldering.
Applications include:  Cutlery, electrical components, electronics, flow control valves, jewelry, medical, and orthodontic components.
With products that range from batch furnaces to continuous belt furnaces, pusher furnaces, vacuum furnaces, humpback furnaces, and much more, Gasbarre can solve any application challenge with the expertise and passion needed to drive your success. Gasbarre Thermal Processing Systems specializes in the design and manufacture of precision-controlled nitriding equipment specific to the thermal processing industry. Our equipment is designed to meet strict automotive and aerospace quality requirements including CQI-9 and AMS 2750; we are also ISO 17025 accredited.
With so many companies out there – and so many questions – it can be difficult to figure out where to even start when you're looking to purchase, replace, or upgrade heat treating equipment. Gasbarre Thermal Processing Systems provides top quality industrial heat treating equipment, engineering, and service. Gasbarre, through our brands Sinterite, C.I. Hayes, and Gasbarre Industrial Furnace Systems (formerly J.L. Becker), delivers the equipment to make your process consistently productive and profitable.
Because the first day in operation of a Gasbarre furnace is the beginning of a long-term relationship, Gasbarre provides a dedicated field service group that can troubleshoot, evaluate, upgrade, rebuild or relocate your heat treat equipment. Our parts department offers service for all of your equipment replacement part needs. Gasbarre will be there when you need us. 
Please give us a call if you would like to learn more about where we are going. Call (401.467.5200) or email ( [email protected] ) us today!