Gasbarre Thermal Processing Systems manufactures, installs, and commissions a wide range of continuous atmosphere products which include mesh belt, pusher, and roller hearth furnaces. Our product line covers a wide range of different processes including sintering, brazing, annealing, glass-to-metal sealing, carburizing, carbonitriding, hardening, inert atmosphere processing, normalizing, stress relieving, tempering, and drying. These products are highly energy-efficient and can be gas-fired or electrically heated. They are available in standard configurations and sizes or can be custom designed. We can provide the ideal product to process your specific parts based upon your process, temperature, atmosphere, and throughput requirements.
Gasbarre's complete line of Continuous Atmosphere Furnaces is listed below.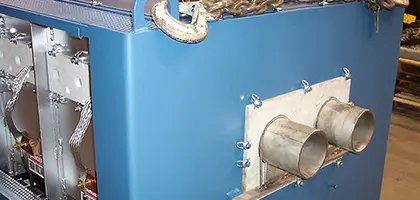 Tube
The CI Hayes Tube Furnace is designed to process wire or strip material in continuous fashion.