What Is Brazing?
Brazing joins metals by flowing a thin capillary thickness layer of non-ferrous filler metal into the space between them. Bonding results from the intimate contact produced by the dissolution of a small amount of base metal into the molten filler metal, without fusion of the base metal. The term brazing is used when the temperature exceeds some arbitrary value, typically 880 degrees Fahrenheit (470 degrees Celcius).*
What Is a Brazing Furnace?
Vacuum brazing furnaces enable manufacturers to create simple-to-complex single- and multi-joint assemblies by providing a controlled vacuum atmosphere that supports the brazing process. Once parts are cleaned and coated with a brazing filler metal, they are inserted into the oven, which heats up to the desired temperature and removes air to prevent oxidation and contamination.
Our Brazing Furnaces
Gasbarre specializes in the design and manufacture of custom-engineered brazing furnaces specific to the thermal processing industry. We develop each of our products with quality and reliability in mind, producing durable, high-powered aluminum brazing furnaces and other equipment solutions that companies can trust.
Gasbarre furnaces are:
Built to rigorous standards using advanced technologies and materials.
Reliable, providing years of operation at process temperature extremes.
Configurable with features and options to meet your specific needs.
Backed by superior customer service and a promise that our technical staff will work with you to configure a brazing furnace that will not only satisfy your needs, but exceed your expectations!
Gasbarre's complete line of brazing furnaces is listed below.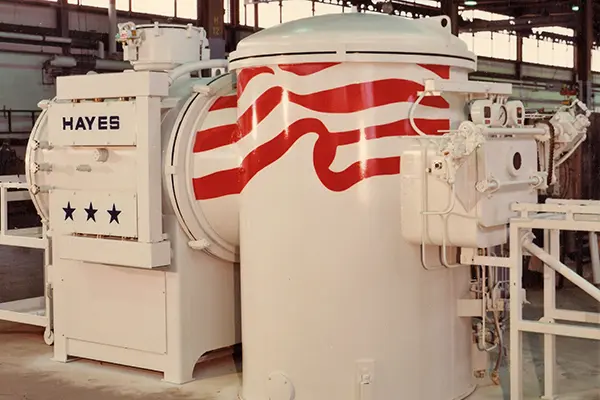 Oil Quench – Dual Chamber

This C.I. Hayes vacuum furnace with isolated oil quench is quite versatile, designed for a wide range of heat treat applications. Like its gas/pressure counterpart, this equipment heats materials evenly and consistently while delivering seamless and efficient product transfer.
*Source: Daniel H. Herring, "The Heat Treat Doctor." The HERRING GROUP, Inc.
Our Custom Aluminum Brazing Furnace Manufacturing Capabilities
Our custom fabrication capabilities put us at the top of our game when it comes to producing cutting-edge manufacturing equipment. If you're looking for an aluminum brazing oven that's geared to your unique needs, Gasbarre is your go-to source. We'll take the time to understand your requirements and expectations and consider how we can best incorporate custom machines into your company's processes.
Advantages of Furnace Brazing Stainless Steel
When you invest in aluminum brazing furnaces for your industrial facility, you'll improve product quality with all of the following benefits:
Reducing operation, maintenance and cleaning costs
Joining dissimilar and hard-to-weld materials
Facilitating the manufacture of simple and complex designs
Exhibiting process repeatability
Enabling the formation of multiple joints at once
Reducing residual stress
Promoting temperature uniformity
Minimizing pollution
Why Choose Gasbarre for Vacuum Brazing Furnaces?
Gasbarre is a family-owned original equipment manufacturer (OEM) that's acted as a one-stop shop for full process integration solutions since 1973. While some OEMs phase out older products to boost new equipment sales, we service machines to maintain and lengthen their service life and never discontinue our equipment services.
It's our goal to help you produce as much product as possible — that's why we'll stop what we're doing to assist you, getting the job done no matter what.
Let Gasbarre become your trusted partner. Contact us for a quote today.
You can find high-quality aluminum brazing furnaces at Gasbarre. With over 45 years of industry experience and expertise, we're the manufacturing professionals that customers rely on worldwide.
Contact us to learn more about our products today!