If you work in manufacturing, you understand the importance of carrying out effective processes using highly reliable equipment. With sintering furnaces in your facility, you'll experience fast and efficient powder sintering, producing top-of-the-line products and components for your company.
At Gasbarre, we strive to create next-level powder metallurgy equipment that our clients trust. We've specialized in creating long-lasting machines that incorporate the industry's newest technologies since our establishment in 1973.
What Is Sintering?
Sintering is the bonding of adjacent powder particle surfaces in a mass of metal powders, or a compact, by heating. Also, a shaped body composed of metal powders and produced by sintering with or without prior compaction.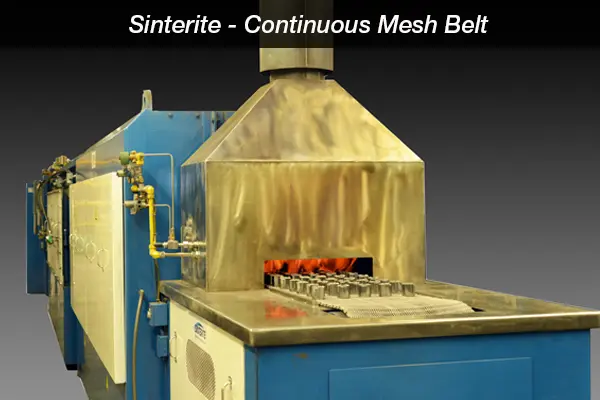 Other common names and related subjects are cold/hot isostatic pressing, liquid phase sintering and metal injection molding.*
What Is a Sintering Furnace?
Sintering furnaces are key players in the sintering process. These ovens typically apply solid-state sintering methods to convert compact powders into thermally resistant molds. To achieve this result, metal sintering furnaces maintain temperatures below the powder's melting point to shape rather than liquefy the material. This temperature causes the substance's powder particles to bond and form a compact crystallized mass, increasing its strength and structural integrity.
Typically, batch furnaces are most suitable for sintering low-volume products, while continuous furnaces are useful for medium- to high-volume materials.
Our Metal Sintering Furnace Options
Gasbarre specializes in the design and manufacturing of custom-engineered sintering furnaces specific to the thermal processing industry. As an industry leader in manufacturing solutions, we develop every sintering oven with quality and reliability in mind. All of our products exhibit their own innovative features, along with specialized functions fit for any manufacturing facility.
Gasbarre furnaces are:
Built to rigorous standards using advanced technologies and materials.
Reliable, providing years of operation at process temperature extremes.
Configurable with features and options to meet your specific needs.
Backed by superior customer service and a promise that our technical staff will work with you to configure a sintering furnace that will not only satisfy your needs, but exceed your expectations!
Gasbarre's complete line of sintering furnaces is listed below.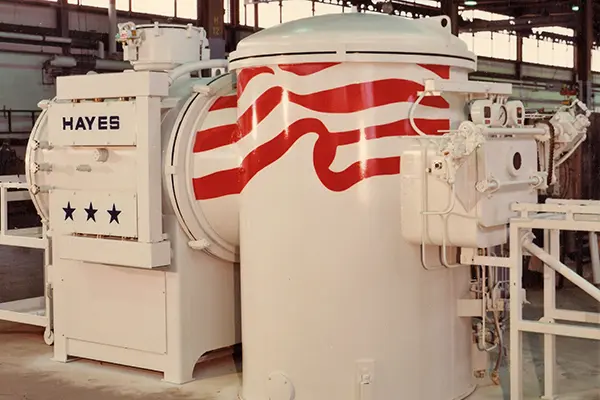 Oil Quench – Dual Chamber

This C.I. Hayes vacuum furnace with isolated oil quench is quite versatile, designed for a wide range of heat treat applications.
* Source: Daniel H. Herring, "The Heat Treat Doctor." The HERRING GROUP, Inc.
Gasbarre's Custom Sintering Oven Fabrication Capabilities
At Gasbarre, we're proud to offer custom powder sintering solutions individualized to our customers' unique needs. Individuals who come to us for custom sintering ovens and other tailored solutions can expect to meet with our team of experts, who will take the time to get to know you and learn about your company's challenges and objectives. Then, we'll create equipment geared toward your needs while considering how we'll implement it in your organization's processes.
We're good at what we do because of our wide array of custom fabrication capabilities that enable us to perform practically any manufacturing task, including:
Bending.
Angle rolling.
Steel inventory.
Welding.
Machining.
Facilities.
Metal cutting.
Rolling.
Ironworkers.
Benefits of Powder Sintering
The sintering process comes with many advantages for manufacturing companies looking to produce high-quality products. Engaging in powder sintering offers many benefits to manufacturers, including:
Ability to create complex shapes.
High-precision operation.
Assembly-ready products.
Reduced porosity.
Greater conductivity.
Reliability and repeatability for mass production.
Visually appealing surface finish.
Minimized machining costs.
Energy savings.
Why Choose Gasbarre for Sintering Furnaces?
At Gasbarre, we've spent over 45 years perfecting our manufacturing services, creating furnaces, presses and tooling that helps companies get the most product out of their machines. As a full-service international original equipment manufacturer (OEM), we are a one-stop shop for full process integration in DuBois, Pennsylvania, and beyond.
We set ourselves apart from competing OEMs by servicing our products for the life of the equipment. While some companies try to boost new equipment sales by retiring old ones, we never discontinue our equipment services, ensuring you achieve optimal service life.
Let Gasbarre become your trusted partner. Contact us for a quote today.
You can invest in high-powered metal sintering furnaces for your facility at Gasbarre. We've spent decades developing high-quality presses and furnaces for your customers, and we want to do the same for you.
For more information on our equipment offerings, fill out a form or call 814-371-3015 today!